V.B. Rose: Volume 1 by Banri Hidaka
By Leroy Douresseaux
February 19, 2008 - 19:31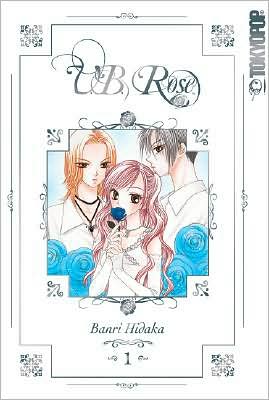 Thanks to barnesandnoble.com for the image.
V.B. ROSE, VOL. 1
When Ageha Shiroi discovers that her older, beloved sister (her idol), Hibari, is pregnant out of wedlock, Ageha is angry, especially at Hibari's boyfriend Makoto Ohara. However, Ageha hasn't heard the worst of it. Hibari's decided to get married before the baby is born.
Now, Ageha's anger knows no bounds, but when she visits V.B. Rose (Velvet Blue Rose), the place where Hibari's wedding gown will be made, Ageha discovers an opportunity to channel her rage into creativity. A budding dressmaker and current handbag designer, Ageha impresses the two young men who run V.B. Rose, Yukari Arisaka, owner/designer, and Mitsuya Kuromine, patternmaker. But are the owners taking Ageha seriously when they offer her a part time job, or just giving her a way to make up for being so ugly to her sister Hibari.
THE LOWDOWN: What Banri Hidaka offers in V.B. Rose, Vol. 1 is a shoujo (girls' comics) manga that is, of course, about drama and romance, but even more about the blooming of a young woman's creativity, dreams, and ambitions. Banri, whose I Hate You More Than Anyone is published by DC Comics' CMX imprint, makes watching Ageha trying to balance her misgivings about her sister's future and her working towards her own goals an engaging read. Banri's beautiful, evocative art is more than matched by her ability to create characters with gorgeous, stylized features that play up the mood and emotions of the story.
POSSIBLE AUDIENCE: V.B. Rose is for the shoujo audience, but Banri's eccentric spin on romance and comedy, plus her so-pretty art will please curious manga readers.
B+
Last Updated: June 23, 2021 - 00:45