I Hate You More Than Anyone: Volume 1 by Banri Hidaka (CMX)
By Leroy Douresseaux
August 6, 2007 - 09:31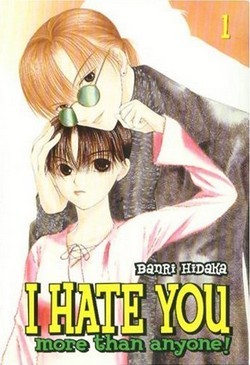 Thanks to Amazon.com for the image.
Kazuha Akiyoshi
is a tomboy, and as the eldest child in her family, she is also quite responsible at taking care of her youngest siblings, as both her parents work late. Still, even a tomboy has time for puppy love. Kazuha has a huge crush on
Mizushima
, who works at the preschool that her little brother,
Rei
, attends. Although Mizushima takes time to notice Kazuha's femininity, she has deep doubts that he feels the same way about her as she does about him (and her crush is intense).
In the meantime, Kazuha has caught the notice of Maki Sugimoto, a slightly effeminate hairdresser. He's an older guy, and in spite of his soft voice and sometimes womanish ways, he certainly knows how to woo a woman. He's determined to show Kazuha that he can give her the love and attention that Mizushima likely will never give her. However, Kazuha finds Sugimoto's amorous ways irritating and thinks of this attentive man as a pest. She hates him more than anyone, but isn't she about to give in to him?
THE LOWDOWN: I Hate You More than Anyone, Vol. 1 is the kind of girlish comic that many people think of when they think of manga, but this pleasantly inoffensive shojo (girls comics) deals with the intensity of young love and youthful angst and confusion without resorting to hysterics or violence. The I love you/I hate you and he said/she said spin of this narrative recalls the film When Harry Met Sally, but for the teen set.
What attracts me to this manga, however, is they way manga-ka (creator) Banri Hidaka cartoons the face, head, and draws hair. Mizushima and Sugimoto are certainly "beautiful boys," the feminized male characters that appear in bishounen stories, and Hidaka makes sure that they're they prettiest boys around. The most important thing, though, is that such beauty serves story more than style. Both male and female characters have large expressive eyes, and those eyes go a long way towards establishing drama, mood, and character.
POSSIBLE AUDIENCE: Girls, of course. Still, any reader who appreciates an artist capable of cartooning the human figure in so strikingly a fashion may want to give this a look.
B
Shop CMX at my Amazon aStore.
Last Updated: June 23, 2021 - 00:45