Togari: Volume 7
By Leroy Douresseaux
July 2, 2008 - 13:57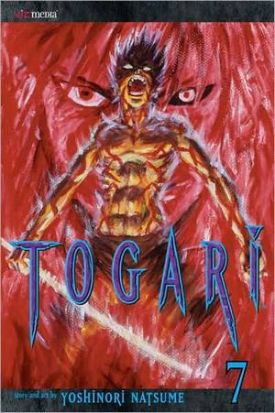 Thanks to barnesandnoble.com for the cover image to Togari 7.
Rated "T+" for "Older Teen"
Tobei is getting medieval on the 21st century. A ruthless young punk and murderer living in Feudal Japan, he was beheaded at age 16 for his many crimes, but after 300 years of damnation, Hell still hadn't broken him. Striking a deal with Lady Ema, the Regent of Hell, Tobei returns to Earth to vanquish the "Toga," sins that have taken on monstrous physical forms. Armed with the sin-eating wooden sword named Togari and accompanied by his watcher, Ose, Tobei has 108 days to kill 108 Toga.
In Togari, Vol. 7, Tobei continues his war with "Team EX," a group made up of five people who have mastered their Togas and wield incredible power. They serve their "Master of the white darkness," who has had his eye on Tobei for some time. When he takes on two members of EX that control the most destructive power, Tobei finds himself short of the power he needs to fight them and ends up exposed. This vulnerable position just might get him sucked inside Togari, the very sword he uses to dispatch Toga.
THE LOWDOWN: One reading of Togari will reveal why DC Comics pegged manga-ka (creator) Yoshinori Natsume for a Batman comic book mini-series, Batman: Death Mask. Natsume's dark and bracing Togari has the apocalyptic feel of another Batman comic book, Frank Miller's legendary Batman: The Dark Knight Returns. In fact, Natsume's work also shares elements and moods of Miller's post-apocalyptic, Japanese inspired graphic novel, Ronin, and Miller's work for Marvel Comics – specifically Daredevil.
Natsume presents Togari's star, Tobei, as something like a samurai bound by ruthless supernatural masters, and this manga matches quite well against other samurai tales. What makes Togari stand out, however, is the series' edgy, desperate mood and a hero that just won't give up – a man who will take on existence itself to live again.
POSSILE AUDIENCE: This seinen manga (comics for adult men) will appeal to men who read manga and could find readers in fans of Frank Miller's comic books.
A
Last Updated: June 23, 2021 - 00:45