Togari: Volume 6
By Leroy Douresseaux
May 15, 2008 - 11:46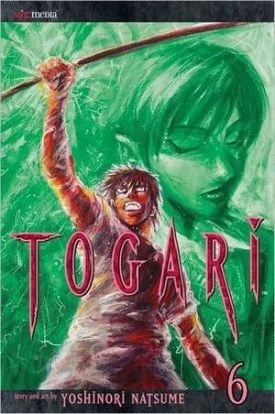 Thanks to barnesandnoble.com for the image.
Rated "T+" for "Older Teen"
Tobei was a ruthless young punk and murderer living in Feudal Japan. At the age of 16, he was beheaded for his many crimes, but after 300 years of damnation, Hell still hadn't broken him. Tobei strikes a deal with Lady Ema, the Regent of Hell, to return Earth and vanquish the "Toga," sins that have taken on monstrous physical forms. Armed with the sin-eating wooden sword named Togari and accompanied by his watcher, Ose, Tobei has 108 days to kill 108 Toga.
Where once his mission seemed simple – just kill Toga – Tobei finds himself, in Togari, Vol. 6, facing a conspiracy called, "EX." This is a group of five people with specialized Toga-like power. Their agenda, though it involves Tobei, is murky, and their master, who is "the white darkness," has had his eye on Tobei for some time. EX makes its first move when a young woman called "Wish" unleashes her grey ghosts against Tobei.
THE LOWDOWN: Although Togari is a dark fantasy manga with strong horror overtones, its creator, manga-ka Yoshinori Natsume, also delves into the nature of sin. He postulates that humans aren't born evil, but their actions, indeed their very nature, can be transformed by environment, negative interactions with other humans, and other bad experiences. Natsume's approach to horror, his thoughtfulness and imagination, and his blend of action/fantasy recalls DC Comics/Vertigo titles like Hellblazer, Preacher, and Sandman. Plus, Togari kicks ass.
POSSIBLE AUDIENCE: Resting somewhere between seinen manga (adult comics) and shounen manga (boys' comics), Togari will appeal to anyone who likes action fantasy, swordplay, and horror.
A
Last Updated: June 23, 2021 - 00:45