The Drifting Classroom: Volume 9
By Leroy Douresseaux
December 2, 2007 - 15:50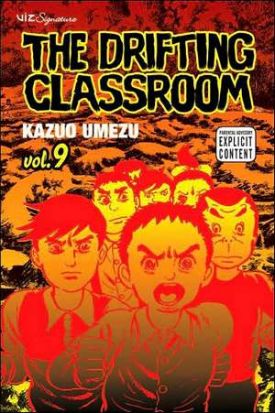 Thanks to barnesandnoble.com for the image.
The Drifting Classroom
is one of the signature works of the manga-ka (creator)
Kazuo Umezu
, considered by many to be godfather of horror manga. The Drifting Classroom is a mixture of horror and science fiction and follows the adventures of a group of young school students trapped in a post-apocalyptic near-future. After an earthquake, their school,
Yamato Elementary
, disappears and is transported to a barren future where they must struggle for survival and battle bizarre creatures that may have evolved from humans.
The Drifting Classroom, Vol. 9 finds series hero Sho Takamatsu in one dire situation after another. He leads what's left of his ragtag band back to Yamato, only to discover that their vile teacher, Sekiya, has abandoned the students. Meanwhile, Sho's rival, Otomo, forms a separate band of students, and they're pushing for war with Sho's group. Then, Sho falls gravely ill and his supporters have to perform emergency surgery on him!
THE LOWDOWN: An ecological nightmare that resonates three decades later, the current volume of The Drifting Classroom is a sci-fi horror spin on William Golding's 1954 novel, Lord of the Flies. It's a hypnotic reading experience – riveting and horrifying. Although the basic scenario of the school being spirited away is farfetched, the breakdown of civility and cooperation amongst the students is all-too real. Kazuo Umezu's tale is so mesmerizing that this could be the fastest any readers have ever read 180+ pages. It's a dizzying narrative of non-stop thrills and painful truths.
POSSIBLE AUDIENCE: As part of VIZ Media's "VIZ Signature" line, The Drifting Classroom is ostensibly seinen manga (comics for adult men), but it's socially relevant and moves beyond its supposed target audience.
A-
Shop VIZ at the Amazon aStore.
Last Updated: June 23, 2021 - 00:45