The Drifting Classroom: Volume 8
By Leroy Douresseaux
October 7, 2007 - 17:31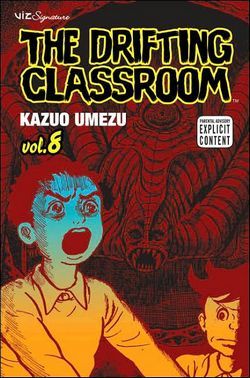 Thanks to barnesandnoble.com for the image.
Kazuo Umezu
is considered the godfather of horror manga, and
The Drifting Classroom
is one of his signature works. Mixing horror and science fiction, The Drifting Classroom follows the adventures of a group of young school students trapped in a post-apocalyptic near-future. After an earthquake, their elementary school disappears and is transported to a barren future where they must struggle for survival and battle bizarre creatures that may have evolved from humans.
The Drifting Classroom, Vol. 8 finds series hero, Sho Takamatsu, leading a small group of students into an underground subway system, which they find in ruins and infested with hideous insect-like creatures. When he and his small band end up on the run from a flood of lava, Sho calls on his… mother!?
THE LOWDOWN: A certified old school manga gem, The Drifting Classroom, first published in the 70's, stands the test of time because it is timeless. On the surface, it is an adventure tale dressed in the genre rags of horror and sci-fi, but this tense thriller, which moves at a breakneck speed, is a parable about people who recklessly exhaust their environment and then willfully ignore the signs and warnings of looming disaster. In other words, The Drifting Classroom points the finger at people who crap where they eat.
POSSIBLE AUDIENCE: As part of VIZ Media's "VIZ Signature" line, The Drifting Classroom is ostensibly seinen manga (comics for adult men), but it's socially relevant and moves beyond its supposed target audience.
B+
Drift on over to the Amazon aStore.
Last Updated: June 23, 2021 - 00:45