Phantom Dream: Volume 3
By Leroy Douresseaux
September 6, 2009 - 08:30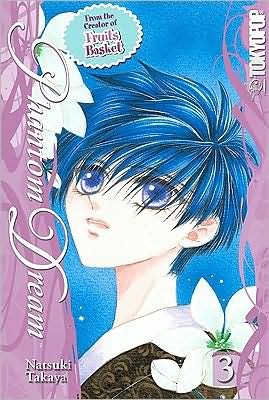 Phantom Dream Volume 3 cover image is courtesy of barnesandnoble.com.
Romance; Rated "OT" for "Teen-Age 16+"
Tamaki Otoya is the last in a line of ancient summoners, a shugoshi. His task is to rid the world of the combined evil of the Jashin (darkness) and Jaki (a kind of demon). Tamaki had found strength to deal with his burden in his childhood friend, the bubbly Asahi, but now, she sits at his enemy's side in a conflict almost a thousand years old.
A thousand years ago, people believed that a young girl named Suigekka was the all-powerful guardian of Japan. Her companions were two young magicians, Hira and Saga. After her untimely death, Hira declared himself King of the Gekka Family, and began using "jashin" the darkness in people's hearts to turn them into "jaki," demonic people possessed by extreme anger, hate, and fear. Saga opposed him and became a shugoshi, casting spells of protection and exorcising the jaki. Tamaki is a descendant of Saga.
In Phantom Dream, Vol. 3, Tamaki learns that King Hira (who has apparently never died) has risen from a decades long restive sleep, and both Asahi and Eiji are by his side. Eiji has been revealed to be a "jahoutsukai," (a black magician), and he is using jashin to transform an elderly widow into a jaki. However, Eiji forms relationship with the woman that evolves into something special, just as Eiji's own body begins to undergo incredible changes. Meanwhile, many members of the Otoya family seek to dictate how Tamaki, whom they see as interloper, fights Hira. These are the threads that lead to revelations about the players in this drama and, most shocking of all, the truth about the past.
THE LOWDOWN: Having not read the second volume of Phantom Dream, I thought that the third volume read like it and the first volume belonged to two completely different series. And I prefer the series to which the third volume belongs. I found Vol. 3 to be so weird and unusual, but the narrative is so well written that it engages with both character drama and plot. Phantom Dream is not without problems; there is so much terminology used to describe particular kinds of magic users, magic spells, magic beings, etc. that there has to be a glossary at the front of the book. I imagine that I'm not the only reader who had to frequently refer to it.
Still, this manga has so many wonderful elements to offer the curious reader. For instance, it has a bizarre, partner-swapping, transgender romance with elements of necrophilia that is too good not to read. This is like getting the naughtiness of yaoi without actual yaoi. Phantom Dream is a manga for the adventurous manga reader who won't settle for the safe and ordinary.
POSSIBLE AUDIENCE: Readers who like dark fantasy and edgy romance with a large serving of horror will enjoy Phantom Dream.
A-
Last Updated: June 23, 2021 - 00:45