Phantom Dream: Volume 5
By Leroy Douresseaux
Feb 18, 2010 - 8:17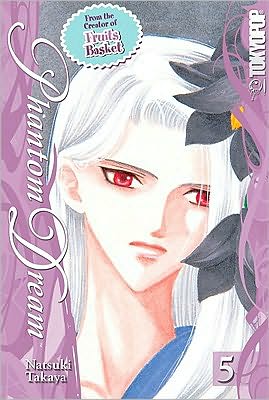 Phantom Dream Volume 5 cover image is courtesy of barnesandnoble.com.
Romance; Rated "OT" for "Teen-Age 16+"
A thousand years ago, a young girl named Suigekka was the all-powerful guardian of Japan. Two young magicians, Hira and Saga, were her companions. After the people turned on Suigekka and killed her, Hira began using "jashin," the darkness in people's hearts, to turn them into "jaki," demonic people possessed by extreme anger, hate, and fear. Saga opposed him and became a shugoshi, casting spells of protection and exorcising the jaki.
Tamaki Otoya, a descendant of Saga, is the last in a line of ancient summoners; he must stop a reawakened Hira who is bent on destroying humanity. His childhood friend, Asahi, is Suigekka reincarnated.
Phantom Dream, Vol. 5 presents the final battle between Tamaki and Hira, and Hira is demanding that Tamaki kill him! Miracles will happen as surprising returns abound.
THE LOWDOWN: This tremendous series comes to a satisfying, happy end without compromising its edginess and obsession with death and all things morbid. Phantom Dream's moody love story not only captures the imagination, but also holds it captive long past the final page. The best thing is that the happy ending will not lessen this manga's gothic spirit. Natsuki Takaya created a dark fantasy and weird romance that stands alone. Too bad it has ended.
POSSIBLE AUDIENCE: Readers looking for exceptional fantasy will certainly find it in the inimitable Phantom Dream.
A
Last Updated: Jun 26, 2018 - 9:28