Phantom Dream: Volume 4
By Leroy Douresseaux
December 15, 2009 - 13:15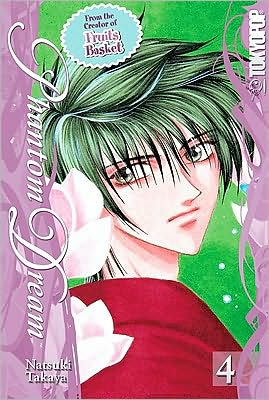 Phantom Dream Volume 4 cover image is courtesy of barnesandnoble.com.
Romance; Rated "OT" for "Teen-Age 16+"
Tamaki Otoya is the last in a line of ancient summoners. A thousand years ago, people saw a young girl named Suigekka as the all-powerful guardian of Japan. Her companions were two young magicians, Hira and Saga. After the people turned on Suigekka and killed her, Hira began using "jashin," the darkness in people's hearts, to turn them into "jaki," demonic people possessed by extreme anger, hate, and fear. Saga opposed him and became a shugoshi, casting spells of protection and exorcising the jaki. Tamaki is a descendant of Saga, and his childhood friend, Asahi, is Suigekka reincarnated.
As Phantom Dream, Vol. 4 begins, the life of Eiji hangs in the balance. Eiji was the young black magician who served Hira before he joined Tamaki's side. A mysterious new figure named Shahaku also emerges to join the battle, but will he help Eiji or Hira? Bloodied and weakened, Tamaki takes the battle to Hira. Asahi, who as Suigekka has been by Hira's side, makes a momentous decision that may turn the tide of the battle.
THE LOWDOWN: There is something about Phantom Dream's edgy love story that captures the imagination. A thousand year-old tragedy and a horrifying revenge plot apparently cannot dampen true love. Sometimes, it does all seem a bit overwrought, but it is still a good read. There is a bonus story that juggles several sub-plots: Asahi's wicked mother; Asahi's relationship with Tamaki that helped her overcome her awful home life; and a homicidal/suicidal artist whose work Asahi loves. It reads like daytime soap opera melodrama, but it may leave the reader wanting more. A skilled manga-ka, which Natsuki Takaya is, knows that success is in the execution, and Takaya makes this prickly dark fantasy and weird romance an absolute treat to read.
POSSIBLE AUDIENCE: Readers that want their dark fantasy and romance burning with fever dream intensity will like Phantom Dream.
A-
Last Updated: August 31, 2023 - 08:12