Moonstone Books Collects Controversial Phantom Storyline
By The Editor
June 2, 2009 - 07:05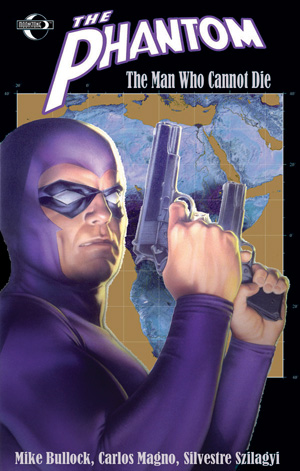 The Phantom: The Man Who Cannot Die cover image
The PHANTOM: The Man Who Cannot Die
Written by: Mike Bullock
Art: Carlos Magno, Silvestre Szilagyi
Cover: Douglas Klauba
220 pages, color, squarebound, 7 x 10, $20.95
10 digit: 1-9330776-60-7
13 digit: 978-1-933076-60-7
Just in time for the Sci-Fi Channel's Phantom movie!
The Ghost Who Walks in all out action, including the controversial storyline The Invisible Children ripped from the headlines of today's Africa!
From OPRAH to Fall Out Boy to People Magazine to Rolling Stone. Invisible Children is a charitable organization that helps educate and save African children who are pressed into military service. The movement has received national media attention from TV shows, to celebrities, to the press!
This volume collects the Phantom issues #12-20, and #26! High adventure and intrigue in the African jungle, on the high seas, and in the streets! There is always justice that needs to be served, whether it's in the present…or the past.
"Thrilling and exciting"- Broken Frontier
"Bullock and Szilagyi continue to excel." – CitC
"The Phantom is worth the price of two comic books from DC or Marvel." – Comics Bulletin
Last Updated: June 23, 2021 - 00:29