Comics / Spotlight / Black Astronaut
Tyrese Gibson's Mayhem #1
By Leroy Douresseaux
September 6, 2009 - 13:00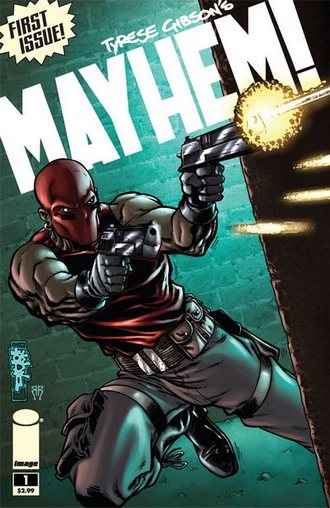 Mayhem #1 cover image
Before appearing in films like 2 Fast 2 Furious and the Transformers movies, Tyrese Gibson, the model turned Grammy-nominated singer and actor, was probably little known to comic book fans – that is until he announced several months ago that he was launching his own comic book series. Entitled Mayhem (although the cover logo declares, "Tyrese Gibson's Mayhem"), the first issue debuted this past month, not without some controversy, especially in regards to the actions of Gibson, his cohorts, and their… guerilla marketing tactics. But that's for another article.
Mayhem #1 opens in Chinatown, Los Angeles at Koi Palace, a Chinese restaurant that apparently serves bad food. We meet Felicia, a complaining customer. Her guise as an unhappy diner is really a front so that she can assist a masked vigilante, a vigilante who promptly shoots and slices his way through a collection of Asian and assorted ethnic heavies and thugs. This gunslinger is adept at causing bloody, frickin' mayhem, although he is never referred to by the name "Mayhem" in this issue. We learn that his name is Dante (whom the artists draws to resemble Tyrese Gibson), and he has a vendetta against a vicious crime lord known as "Big X." Dante and Big X apparently have some kind of connection, but it is deeper either realizes.
I came across a message board posting that compared Mayhem to early 1990s Image Comic books. I'm guessing that this judgment was apparently made based upon Mayhem #1's cover art by Mayhem co-creator and artist, Tone Rodriguez. The stereotype of a comic book published by Image was one in which eye-catching art was emphasized over story, and all the characters were gun-toting/sword-wielding goons. The covers for most of the Image Comic books, at least the ones published in the first few years of Image's existence, encapsulated this idea of muscular males holding or shooting big guns. The Mayhem cover features a muscular, but fairly normal looking black guy, firing pistols, not the mini-cannons so popular with Image's founding fathers.
As envisioned by Rodriguez, Dante's combat fatigue-like costume features cargo pants and a big utility belt with several pouches. That does make the character look like he was created by Rob Liefeld in the late 1980s or early 90s. However, the resemblance to such Liefeld characters as Chapel (a member of Youngblood), is passing, at best.
Actually, although Mayhem is a color comic book, printed on glossy paper stock and published by a major comic book company, (Image, no less), it reminds me of the kind of gritty, small press, black and white, printed on newsprint, comic books that a company like the late Aircel Comics might have published about 20 years ago. In an alternate world, Mayhem could have been a comic book by Barry Blair, an Aircel cofounder and creator of many series starring gun-toting characters, such as Gun Fury.
Mayhem #1 ("Take Me Away," Part One) doesn't offer pseudo-sophisticated storytelling, fake psychological underpinnings, and rich (not) character drama; after all, this isn't some Brian Bendis all-filler epic. This is a straight-forward action comic. The violence isn't mindless because there is some heart behind Dante's rage. So what this first issue lacks in complexity, it makes up for in bust-a-cap-in-your-ass fun. It's clear that Gibson and his co-writers, Mike Le and William Wilson, are having fun.
I'm very interested in where this goes, and I will read future issues. I'm also equally interested in seeing the critical and fan reaction to Mayhem, and in seeing what drives, shapes, and defines that reaction. Will it be this comic book's quality or something else…
Last Updated: June 23, 2021 - 00:45