Wanted Brings Bullets and Mayhem Back to Summer
By Leroy Douresseaux
June 28, 2008 - 08:04
Wanted (2008) - 108 minutes
Starring: James McAvoy, Morgan Freeman, Angelina Jolie, Terence Stamp, Thomas Kretschmann, Common, Kristen Hager, Marc Warren, and Chris Pratt
DIRECTOR: Timur Bekmambetov
WRITERS: Michael Brandt & Derek Haas and Chris Morgan; from a story by Brandt & Haas (based upon the comic book series, Wanted, by Mark Millar and J.G. Jones)
PRODUCERS: Jim Lemley, Jason Netter, Marc E. Platt, and Iain Smith
GENRES: Action, Fantasy, Thriller
RATING: MPAA – R for strong bloody violence throughout, pervasive language, and some sexuality
DISTRIBUTOR: Universal Pictures
Once upon a time, the summer movie season meant trashy R-rated movies – big budget affairs full of foul-mouthed villains and heroes. Special effects weren't used to create dinosaurs, talking dragons, or fairy tale lands populated by fairy creatures. Special effects were used to create loud car chases and blood spurting from gunshot wounds. Everything from Lethal Weapon and Die Hard to The Long Kiss Goodnight and Bad Boys II offered hard-R violence.
This sadistic nonsense is just what director Timur Bekmambetov offers in his new movie, Wanted. Anyone who has seen the Russian-Kazakh Bekmambetov's films, Night Watch and Day Watch, which are hugely popular in Russia, knows that the director loves slow motion camera work and special effects that play with film speed. Just seeing the commercials for any of his films, including Wanted, will give the viewer a good idea of the kind of bracing, heart-stopping thrills Bekmambetov's flicks offer. He makes junk action movies, but does it with the skill of an artist. Wanted is everything that is politically incorrect about a summer movie: implausible gun fights, explosions, automobile-crunching car chases, bullet-riddled bodies and exploding craniums, with a side of bare ass.
In Wanted, 25-year-old Wesley Gibson (James McAvoy) is a disaffected, cube-dwelling drone account, and he's probably the world's biggest nobody. His girlfriend cheats on him with his best friend. Wes wiles away the days, dying in his slow, clock-punching rut until he met a gun-toting, action-oriented woman named Fox (Angelina Jolie). Fox recruits Wes into The Fraternity, a centuries-old, secret society of assassins led by the enigmatic Sloan (Morgan Freeman).
The Fraternity shows Wes how to awaken his dormant powers, which grant him heightened senses and super human abilities. As Fox teaches him how to develop lightning-quick reflexes and phenomenal agility, Wes learns that members of The Fraternity live by an ancient, unbreakable code: carry out the death orders given by fate itself – assassinating people who are destined to bring death and chaos to large numbers of human. Wesley learns that his father, who abandoned Wes when he was 7 days old, was a member of The Fraternity. Now, Wes has a chance to kill Cross (Thomas Kretschmann), the man who murdered his father and who betrayed The Fraternity. But who is Cross, and what secrets does he hold for Wesley and The Fraternity?
Wanted is based upon the superhero comic book series, Wanted by Mark Millar and J.G. Jones, although the film version drops much of the comic book, especially the superhero elements. Wanted the movie retains the imaginative, weird fantasy spirit of superhero comics, but makes it trashy and vulgar like the films and fake commercials in Quentin Tarantino and Robert Rodriguez's Grindhouse. It's not being unfair to call Wanted trashy and bad because it is. Even in the context of a world where super-powered assassins exist, Wanted is inconsistent in its own mythology and lacks internal logic.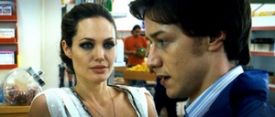 Jolie and McAvoy in a scene from the film.
The acting is plain bad, and neither Morgan Freeman nor Angelina Jolie attempt to make any pretense that they're interested in this movie. Except for a few inspired moments, both of these Oscar-winning actors seem to be phoning in their performances, and the rest of the cast play characters that are poorly developed or have too small a part to make any difference (like Common's Gunsmith character). I still fail to see why there is such buzz about James McAvoy ( Atonement, The Last King of Scotland) being the next big thing. He's actually horrible miscast in this film – he can play hapless, but can't pull off the badass type that's required for most of this film. Still, McAvoy is a good enough actor, and at least he works hard enough to out perform everyone else in Wanted.
Ultimately, what makes Wanted so much fun to watch is the work of director Timur Bekmambetov. His ingenuity in inventing new and myriad ways to attack and defend and ambush and annihilate is simply awesome. Some may find the relentless violence exhausting or be sickened by the glamorization of murder as a fun, sexy pastime. But Wanted is badass and filled with original visual thrills; the elaborate passenger train sequence alone is worth the price of a ticket. I expect summer movies – the good, the bad, and the trash – to thrill me, and Wanted did, plain and simple.
B+
Last Updated: August 31, 2023 - 08:12