Comics / Comic Reviews / Comic Strips
Spy vs. Spy! Masters of Mayhem
By Leroy Douresseaux
September 17, 2009 - 14:28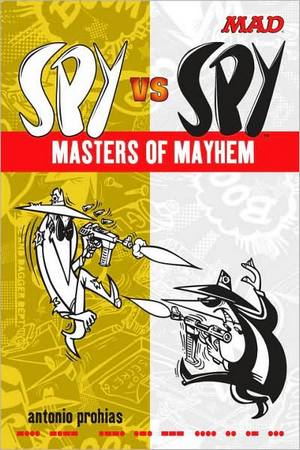 Spy vs. Spy! Masters of Mayhem cover image is courtesy of barnesandnoble.com.
One of the most famous features of MAD Magazine is Spy vs. Spy. Created by Antonio Prohías, Spy vs. Spy is a wordless black and white comic strip, which has been published in MAD since 1961? The main characters are two spies, Black and White (sometimes known as Spy (White) and Counter-Spy (Black). For decades, Black and White have been constantly fighting and conspiring against each other, with each spy conceiving increasingly sophisticated ways of doing away with the other. These two spies are drawn to look virtually identical: wearing dark shades, trilby hats, and overcoats, and both have long pointed noses. The main difference between the two is that one is dressed in white and the other in black.
Antonio Prohías (1921-1998), the creator of Spy vs. Spy, was born in Cuba. He went on to become an internationally recognized and awarded political cartoonist. Prohías reportedly had to leave Cuba after falling afoul of the then new Cuban dictator, Fidel Castro, who reportedly issued death threats to Prohias and his family. Arriving in New York, Prohias entered Mad Magazine's offices in July of 1960. Although he spoke no English, his drawings of two pointy-nosed characters earned the cartoonist a position with the famed humor magazine.
Watson-Guptill Publications has returned to print Spy vs. Spy strips which haven't been in print in more than 40 years via three new paperbacks. The second of the three books is Spy vs. Spy! Master of Mayhem, which collects material previously published in MAD'S Spy vs. Spy Follow-Up File (Signet Books, 1968).
As funny as the early Spy vs. Spy strips are, they are equally visually inventive. In fact, Prohias' ability to conceive one unique scenario after another built around the same theme – one spy getting the better of the other – is remarkable. I find myself frequently in awe of this almost forgotten cartoonist's potent imagination. Anyone who has ever wondered why Spy vs. Spy has lasted so long need only read one of the three reprint books. Clearly, Prohias' remarkable work on this strip impressed so many of his contemporaries and later cartoonists that they fell in love with Spy vs. Spy, many of them loving it enough to want to continue the strip after him.
A
Last Updated: January 24, 2022 - 11:00