Kaze Hikaru: Volume 10
By Leroy Douresseaux
July 21, 2008 - 09:44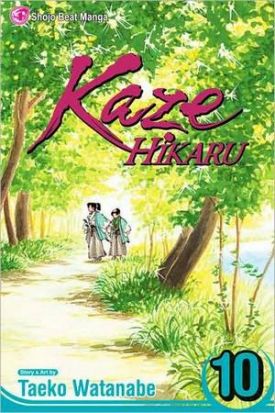 Thanks to barnesandnoble.com for the image.
"T+" for "Older Teen"
Japan in the 1860's is a time of tremendous social upheaval. Tominaga Sei, the daughter of a samurai, disguises herself as a boy to avenge her father and brothers. She takes the name Kamiya Seizaburo and joins the Shinsengumi, a band of warriors formed to protect the Shogun. Aspiring to be a true bushi (samurai), she trains under Okita Soji, the only person in the Shinsengumi who knows Kamiya's true identity and the object of Kamiya's affections.
In Kaze Hikaru, Vol. 10, a new member joins the Shinsengumi. Ito Kashitaro is an intellect and a renowned master of two swordsmanship techniques. Using positive reinforcement, Ito becomes popular among the men as he seeks to strengthen their minds along with their bodies. However, the first time Ito sees Kamiya, he is mesmerized by her beauty and begins a dogged romantic pursuit. Kamiya and those in the Shinsengumi in her confidence see this as another crisis in their scheme to keep her identity secret.
THE LOWDOWN: In the tradition of 19th century fiction, Kaze Hikaru is a sweeping romantic epic. It also bears some of the elements of historical fiction, but while this title is published under VIZ Media's "Shojo Beat" line of manga – drama for teen girls, Kaze Hikaru has plenty of suspense and intrigue with a side of Machiavellian delight. Manga-ka (creator) Taeko Watanabe's impeccably cleaning drawing style recalls the smooth comic book art of such artists as John Romita, Sr. and John Severin.
POSSIBLE AUDIENCE: Fans of samurai drama, particularly drama set in the twilight of the samurai era, will love this beautifully drawn and fully-realized character drama.
A
Last Updated: June 23, 2021 - 00:45