Comics / Manga / Yaoi Manga
Makoto Tateno's Ka Shin Fu
By Leroy Douresseaux
February 17, 2009 - 11:55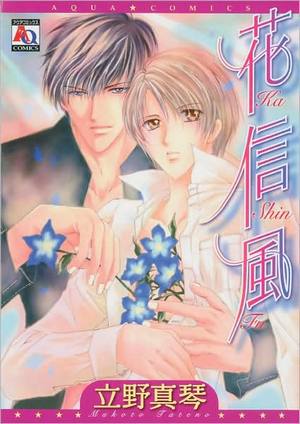 The above cover image is of the original Japanese edition of Ka Shin Fu. June's edition retains the cover illustration with new cover design and copy.
Rated "M" for "Mature Audiences 18+"
A strong wind is blowing over the grand estate of the Kourenji Family, and soon, a full-fledged storm will arrive. Inside, Grandmother is trying to decide who will be the heir to the estate – the person who will control the vast fortune of the Kourenji Group. One young man will ascend to the thrown of the Kourenji's sprawling empire.
Will it be Kaoru Onda, the son of Mitsuko, Grandmother's granddaughter? Will it be Ryuugo Sajima, the son of Shouichi, Grandmother's son and eldest child? Is either of these two young men ready? Will Ryuugo, a tabloid photographer, exploit the situation for his personal gain? Why is Kaoru spending so much time with Shimada, a longtime friend of the family, who seems to hold so much sway over the young man? Will Kaoru and Ryuugo turn to each other for support just as their uncles, Yuuichi Sagiya and Shuu Mizushima, did once upon time when Grandmother was pressuring them to produce an heir? Tune in tomorrow!
THE LOWDOWN: I love yaoi manga that is like good gossip, which can sometimes be the gift of scandal that just keeps on giving. The crazy machinations of Ka Shin Fu by manga-ka Makoto Tateno (the Hero-Heel series) is the kind of reading that makes it hard for readers to close the book before the last page. If the Kourenji Family were real people (or even our neighbors), we couldn't stop talking about them, because their drama would be the perfect distraction from the tedium of daily life. It's the TV show, "Dallas," meets the TV soap, "The Young and the Restless," meets Southern Gothic family drama like Cat on a Hot Tin Roof.
POSSIBLE AUDIENCE: Hot sex, coerced sex, secrets and lies, the quest for vengeance, and shocking revelations: Ka Shin Fu is for readers who love tawdry drama in their yaoi.
A-
www.digitalmanga.com
www.emanga.com
Shop for Yaoi Delights.
Last Updated: June 23, 2021 - 00:45