Comics / Manga / Yaoi Manga
Makoto Tateno's Hero-Heel 3 (Yaoi)
By Leroy Douresseaux
February 12, 2009 - 19:27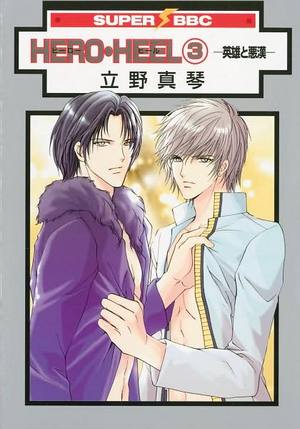 The cover illustration featured on the original Japanese edition of Hero-Heel 3 (pictured above) has been retained for June Manga's edition.
Rated "M" for "Mature Audiences 18+"
Hero-Heel is manga-ka Makoto Tateno's behind-the-scenes series, which looks at love and rivalry on the set of a Japanese sci-fi, superhero television series. Talented young actor Masaki Minami plays Oreas, the star (and hero) of the sci-fi series, "Trans-Dimensional Warriors Airguard," and his rival, Kazuomi Sawada plays the villain (and heel), Gadriel. Minami and Sawada were engaged in a relationship that fell apart, but now the two are adversaries just like their TV counterparts.
Hero-Heel, Vol. 3 is the final volume of the series. The TV series, "Trans-Dimensional Warriors Airguard" is also coming to an end. As the final scripts arrive, the cast and crew realize that they'll be going their separate ways when the filming ends around Christmas Eve. All tensions, romantic and otherwise, between Minami and Sawada seem to have faded, but appearances can be deceiving. While both men are currently in relationships, they still manage to end up together – both on set and off. When he learns that Sawada is hiding a painful injury, Minami's concern gets the best of him. That and the ending of their television series may force them to resolve their lingering issues, though someone may end up with hurt feelings.
THE LOWDOWN: While it has the strong emphasis on relationship drama that its predecessor, the second volume of Hero-Heel, had, Hero-Heel 3 embraces a larger-than-life drama that takes place in front of and away from the camera. Makoto Tateno (Steal Moon, Ka Shin Fu), whose work usually emphasizes an attention to detail in matters of love similar to that of a prose romance novel, gets in the heart and soul of those matters here – capturing a deeper sense of longing and yearning.
Characters' feelings here are on the line, and where genuine feelings of love and want exist, betrayal of that is much more potent. Even the threat of betrayal and infidelity in Hero-Heel kicks up the drama and gives character conflict an uneasy edginess. Thus, when the questions of love are settled, the lovemaking will be that much better – full of energy and an urge to release pent up feelings.
POSSIBLE AUDIENCE: Yaoi readers who love the art of pursuit and contentious breakups will enjoy how everything comes together in this third and improved volume of Hero-Heel.
A-
www.digitalmanga.com
www.emanga.com
Shop for Yaoi Delights.
Last Updated: June 23, 2021 - 00:45