Comics / Manga / Yaoi Manga
Shining Moon: Junior Escort (Yaoi)
By Leroy Douresseaux
July 12, 2009 - 19:56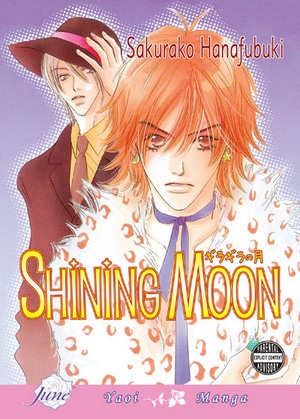 Shining Moon cover image is courtesy of Anime Castle Books.
Drama/Romance; Rated "M" for "Mature Audiences 18+"
Junior Escort is a yaoi manga series from manga-ka (creator) Sakurako Hanafubuki. In the first three books: Junior Escort, Love Code, and Crazy Star, readers followed the trials and tribulations of Kyo Ayukawa and Koji Mizuhara. Kyo was an up-and-coming actor/model who was apparently willing to do anything to please his employers at the talent agency, Office U. He even assented to his boss' wishes and allowed Office U's top star, Koji Mizuhara, the hottest male model/actor/celebrity in all of Japan, to use his body for pleasure.
Shining Moon, the fourth book in the series, is a collection of side stories and short pieces. Most of these stories feature supporting characters and other players only loosely connected to the main characters and storyline. However, one of these stories, the two-part "Anti-Aging," is a flashback story; it explains the rumor/gossip about Koji Mizuhara and "the boss' son" mentioned in passing in the first book, Junior Escort.
Readers who don't mind the differing tones of these stories will enjoy Shining Moon. On one hand, there is the sweetly romantic "To Be in Passionate Love" and the title story, "Shining Moon," a romantic drama. Then, there is "love" that would bring numerous felony charges, such as in "Anti-Aging," which is still a hell of a good read. I've found the Junior Escort series to be a mixed bag, but Shining Moon is consistently interesting (if also a little strange). The scandalous stuff is a hoot to read, and even the sentimental stuff can make for an enjoyable read. Shining Moon is lively and a little controversial, but it's always fun to read. It leaves you wanting more, and what more could you ask of book?
A-
www.digitalmanga.com
Shop for Yaoi Delights.
Last Updated: June 23, 2021 - 00:45