Comics / Manga / Yaoi Manga
Love Code: Junior Escort (Yaoi)
By Leroy Douresseaux
February 7, 2009 - 14:12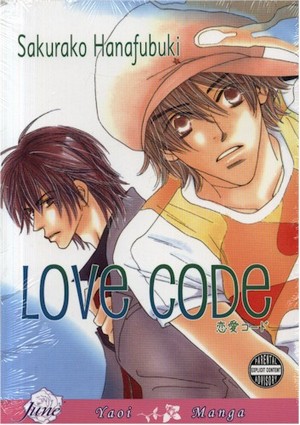 Love Code cover image is courtesy of Anime Castle Books.
Rated "M" for "Mature Audiences 18+"
In Junior Escort, a collection of yaoi manga short stories from manga-ka Sakurako Hanafubuki, readers met Kyo Ayukawa, an up-and-coming actor/model who was apparently willing to do anything to please his employers. Being a "junior," he accedes to his boss' request that he allow his agency's "senior" star, Koji Mizuhara the hottest male model/actor/celebrity in all of Japan, to use his body for pleasure, but the duo eventually fell in love.
Now in the follow-up book, Love Code, Hanafubuki depicts a world that seems against Ayukawa and Mizuhara being together. Office U, their talent management agency, has just pulled off a major deal and landed Mizuhara an acting role in his first Hollywood film. Ayukawa's career is also on the rise; he is recording a music CD with fellow Office U talent, Tokisada Kujo. Office U, however, wants Ayukawa to break off his relationship with Mizuhara before the public announcement of the Hollywood deal, and his bosses are threatening to kick Ayukawa off the music project if he refuses.
In Junior Escort, the story of Ayukawa and Mizuhara was the subject of two short stories. In Love Code, their story is expanded to the length of a novella or short graphic novel, and the longer narrative permits manga-ka Hanafubuki more space to roam inside Ayukawa's head, allowing the reader to examine in detail the extent of his love for Mizuhara. This longer story also gives Hanafubuki the freedom to delve into Mizuhara's dark past and his troubled relationships with his family and lovers.
If anything, Love Code reveals Mizuhara to be a rich character, worthy of study, and one whose past, present, and future would make for interesting reading in a longer series. As compelling a drama as Love Code is, the story also reveals a fundamental weakness of Love Code as Boys' Love. Mizuhara's life is more interesting than his romance with Ayukawa, which would make this a drama. It's not that the reader won't believe in the Ayukawa-Mizuhara pairing; it's simply that over the course of the narrative, the love story gives way to a life story. Both are good, but could be better alone.
B
www.digitalmanga.com
www.emanga.com
Shop for Yaoi Delights.
Last Updated: June 23, 2021 - 00:45