Hellblazer #251 Welcomes Peter Milligan
By Leroy Douresseaux
March 8, 2009 - 11:40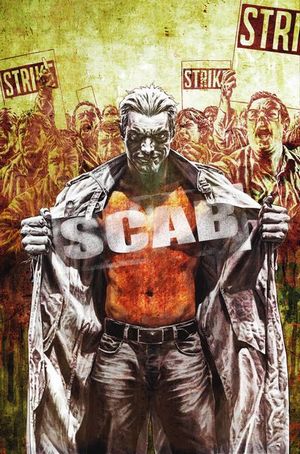 Lee Bermejo cover art for Hellblazer #251.
"Scab" Part 1 of 3
Prolific, veteran comic book writer Peter Milligan, a sort of founding father of Vertigo Comics, finally takes on the task of chronicling that badass of urban magic, John Constantine with Hellblazer #251. Milligan opens the story with a rather unsettling, Liverpool-set, vignette on scab-busting a union-buster.
Then, Milligan moves the narrative 12-years into the present where we find Constantine tending a new romance, this time with Phoebe, a medical doctor. John is sharing his sordid past, and Phoebe manages to not run screaming for the hills when John admits to the magic bits. This is John Constantine, however, and there's always a complication. A rapidly spreading and ugly scab on his chest takes center stage, forcing John to seek occult help. Meanwhile, John's not the only one with a skin problem…
Peter Milligan's career is eclectic, to say the least. His witty style and imaginative storytelling made his tenure on X-Force (#116-129) and its re-launch as X-Statix the X-Men book to read for those who ignored superhero comics and X-Men in particular. Obviously, one can't judge a run on the first issue, but one can judge the start. It's safe to say this opening issue bodes well for Milligan's Hellblazer. The art team of layout artist Giuseppe Camuncoli and finisher Stefano Landini also promises good things.
Last Updated: June 23, 2021 - 00:45