Halo Wars Out In February, Available For Pre-order
By Eli Green
November 6, 2008 - 15:30
Microsoft Game Studios and Ensemble Studios announced today that the first ever Halo real time strategy game, Halo Wars will be coming to retailers this coming February, available in either a regular or Limited Collector's Edition. Halo Wars will take you from controlling a single soldier to commanding an entire battlefield. It is also supposed to combine the intense action of the Halo franchise with a new story that precedes the original Halo .
If you recognize the name Ensemble Studios, you've probably played games from the Age of Empires franchise. Ensemble's team has worked painstakingly to design Halo Wars specifically for gameplay and control on Xbox 360 in an attempt to bring the fluid strategy experience real time strategies have offered on PCs for years to console, though Ubisoft's Tom Clancy's Endwar will likely beat them to the punch on that front.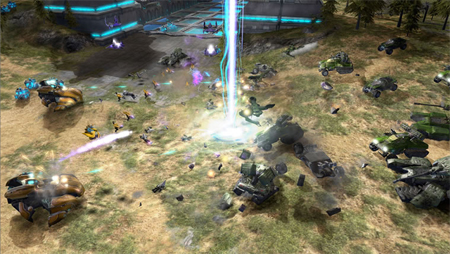 Aside from the regular edition of Halo Wars , a Limited Collector's Edition will be offered through participating retailers and will features three new Halo 3 multiplayer maps (the Mythic Map Pack, which includes Assembly, Orbital and Sandbox), the Halo Wars: Genesis graphic novel by Phil Noto, Graeme Devine and Eric Nylund, a unique in-game vehicle called the "Honour Guard" Wraith, six Leader Cards and a Spirit of Fire patch, which lets you start the game as an official Spirit of Fire crew member. The regular edition of Halo Wars will be available for $59.99 USD/CAD, while the Limited Collector's Edition will be available for $79.99 USD/CAD. Halo Wars is rated T for Teen and is already availble for pre-order at some retailers.
Last Updated: April 9, 2021 - 22:22