Review: Halo Wars 2
By Sean Booker
February 28, 2017 - 17:54
Halo Wars 2 is a great strategy game that incorporates a good amount of depth to its various game modes. The campaign is diverse and utilizes both small scale and much larger conflicts. Playing online is a ton of fun and the various co-op options are a blast. The addition of Blitz mode in particular is a fun twist on the formula. The controls are the most cumbersome aspect to the game as the lack of a mouse and keyboard is obvious. It's a slower game but still manages to present a great time.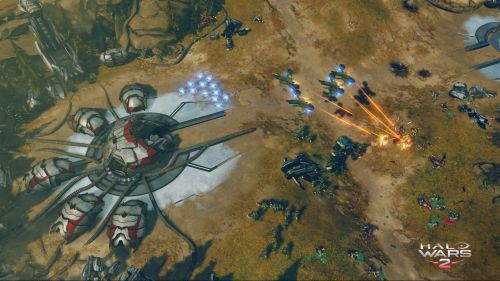 I am not an avid real time strategy player but even with the lack of experience it is apparent that the controls to Halo Wars 2 are lacking. The game is played with a controller and this makes it real hard to quickly arrange units on a granular scale. You are given option to select the classic "All Units" and "Local Units" but from there it becomes tedious to split further. Holding down A and dragging over units works enough but it requires zooming in and out (slowly) first and always seems like you are just never close enough. Using the triggers will allow you to select specific unit classes within your selection but it doesn't allow for you to split up those up individually. For example, if you have two scorpions you can't select only one of them this way. This forces the player to have to individually spread units apart before being able to hold and drag over them. It becomes cumbersome and doesn't help when you need to split your forces deliberately and quickly.
Halo Wars 2 is one of Microsoft's Play Anywhere games which grants a PC version to anyone buying the Xbox One version digitally (and vice versa). Along with the Xbox version, the PC option strangely is also missing support for a mouse and keyboard. (At the time of this writing it has been stated that they are looking into this option for the future). This seems like an obvious oversight but luckily the campaign never requires you to become that specific with your arrangements.
Despite the control difficulties the campaign is still an enjoyable time. It moves back and forth between smaller, more personal battles to larger and massive wars. Some missions will have you controlling only three or four Spartans as you slowly take out the enemy and free your imprisoned allies. While others will require you to fortify your base and you build up a huge squadron to send out. There are missions requiring slow movement so your snipers can take out enemy mines; while others require you to fight and take over an enemy warship in order to cause some serious destruction. The variety is welcoming and keeps the game interesting. The campaign can also be played entirely in co-op and this is where I had the most fun with the game. You and a teammate build the same base and are given separate units to command while being able to send them between each other's control. This made some of the harder missions much more manageable since one of us was able to work on production and fortification while the other went out and attacked the enemy. Playing through the campaign in co-op is easily the best way to go.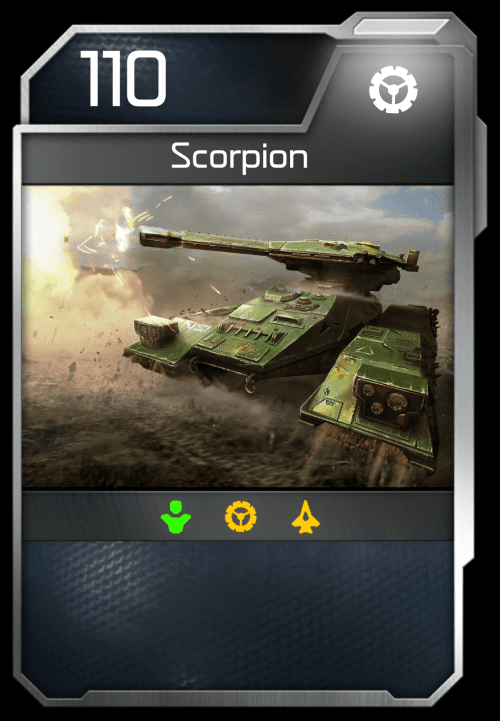 The newest competitive mode: Blitz, is another really fun addition to the game (also available in co-op). It works similarly to Halo's Firefight mode (even falling under the same umbrella in game). Waves of enemies will continue to attack you as you do your best to hang onto as many control points as possible. Holding the majority of a map's objectives will reward you points while holding less will reward the enemy. Instead of mining resources and spawning your troops from a base, the game is based on a card system. At any time you will have four cards you can use by paying with resources found scattered around the map. This will instantly spawn in that unit (or hero power) wherever you place it. Outside of the mode you can customise your deck with different cards that you earn through loot boxes (here lies your microtransactions). This didn't become too egregious to me since I was awarded a ton of these boxes while playing through the story mode. This may become more tiresome when facing off against other human players who have put more money into these cards. Blitz mixes up the formula enough to make it feel separate from the usual online competitive play and ended up being a ton of fun.
Halo Wars 2 is a worthwhile continuation to the series. The campaign is varied and allows for several different style of strategy missions. Playing through the game in co-op is a real blast and allows for some great teamwork. Blitz mode is an awesome addition that is quick to learn despite mixing up the core formula. The game continues to be enjoyable despite the lackluster controls.
Rating: 8 /10
Last Updated: September 6, 2021 - 08:15