Review: Halo 5: Guardians

By Sean Booker
November 2, 2015 - 18:21
Huge battles, fun gameplay, and some really nice visuals make Halo 5: Guardians a great game. What the campaign lacks in story it easily makes up for in enjoyment. Each mission is unique and feels like a set piece moment throughout. The series has never looked better and the music and sound is just as good as you would expect. Warzone is a good addition to the online catalog and definitely helps Guardians feel like a great way to spend your time.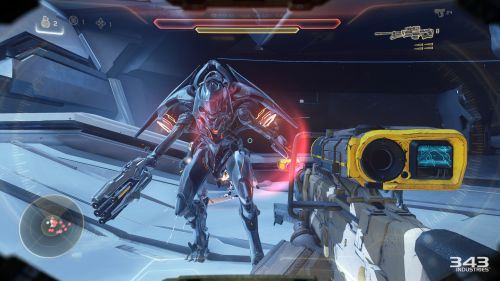 Master Chief has gone off on his own mission in search of Cortana, and Blue Team (consisting of some familiar Spartan faces) is working to bring him back. The story is the weakest component to Guardians since it doesn't get that much more interesting until the very end. You play as Chief for half the game, running after Cortana; Locke is the other half and his role is only to chase. There isn't much dynamic here and unfortunately it doesn't get better until the very end. However, though there are some cool advancements revealed in the final few cut scenes, there is a lot left open. This is clearly a middle chapter to the trilogy and the story lacks overall because of it.
Despite a lackluster reason to push forward, Guardians has been the most fun I've had with a Halo campaign that I can remember. For the most part, every mission felt impactful and unique. Fighting through a lava filled cave, along a snow covered mountain, or even down the side of a massive structure overlooking a planet, there is a great deal of variety and intrigue here. The levels are laid out so that every battle is in a big area with a ton of enemies. Since you are always rolling with a squad of four - this allows for four player online co-op (split screen however is absent) - it forces the game to supply even more enemies to face off against. This makes the fights even more hectic and grand. All of this leads to a great deal of fun and a feeling of real power for the player. I consistently looked forward to the next skirmish while playing.
These exciting moments are enhanced by the fantastic presentation in Halo 5. The series has never looked better at a solid 60 frames per second. This goes a long way when all this chaos is happening around you while remaining smooth and consistent. One visual effect I particularly enjoyed is when an explosion goes off real close to yourself. When it happens your entire screen shakes and buzzes as if your whole suit is malfunctioning. It is one example of the nice visual treats you will encounter. The move to a new console generation definitely helped improve how Halo looks.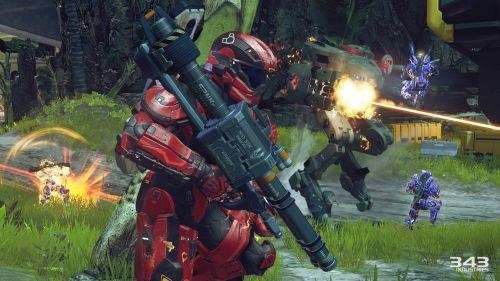 Warzone is the big new online content addition in Guardians. In this mode, two teams of spartans will fight against one another while trying to collect 1000 points through various means. There are three control points that can be fought back and forth over that will primarily raise your score (similar to a King of the Hill mode). Killing human enemies as well as the computer controlled enemies littered throughout the map will also award each team. The game will even spawn stronger enemy waves and boss characters from the story into the fight in order to allow for more points to be collected and give the player more options for how to act. The microtransactions come into play from the use of card-based upgrades. Any time you are respawning or reach a specific location you can select a card to deploy. Each with their own level of usefulness; upgrades will range from different weapons, vehicles, stat boosts, etc. These maps are really quite huge and as the battle progresses so too does the level of cards you can use. This forces the mode to dynamically increase the chaos and variety of experiences the longer it goes on for. Warzone is a deep and interesting mode that combines a little bit of everything for a great payoff.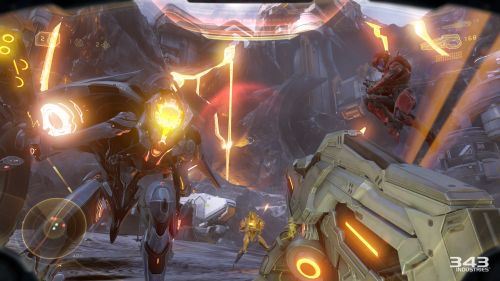 Halo 5: Guardians is light on story but hits hard everywhere else. The campaign makes you feel powerful while you work to take down huge groups of enemies inside of large and interesting arenas. The missions are filled with great set piece moments that are hard to forget. Online we have the great inclusion of Warzone to make this side feel fresh. Halo has never looked better and whether playing online or through the campaign, there is a great deal of variety and excitement to be had.
Rating: 8 /10
Last Updated: September 6, 2021 - 08:15