The Comic Book Bin's user Guide
By Hervé St-Louis
March 19, 2006 - 14:09
The Comic Book Bin is a LARGE site with several thousand's articles. Yet, finding your way around and locating a specific article is fairly easy and quick.

Mobile Edition

From the home page of The Comic Book Bin, you can easily access the home page of the Mobile Edition of The Bin. The Mobile Edition was designed for mobile devices users and has been specifically tested for iPhones, Palm Pres, iPod Touch players and BlackBerry phones. The Mobile Edition should also be compatible with Android phones, Nokia phones, Nokia tablets and most phones that enable Web browsing. The Mobile Edition loads faster and is formatted to providing you a good reading experience, on your mobile device. All of our regular articles are available in the Mobile Edition. If you are starting from any article and would prefer the Mobile Edition, there is a link at the top allowing you to switch to the Mobile-Friendly Page. It has the same contents and images, but is better optimized for your mobile device.

The Main Topics

There are seven main sections on the site. They are, Comics, Action Figures, Movies, Games, Fan Films, Interviews and Books . Within each of these categories, there are subcategories with more specific examples. For example, in the Comics, you will find reviews, news, columns and more. A similar organization is found in other sections. Each main section is an index of the most recent articles posted in these categories. These indexes are similar to the main page of the Comic Book Bin which itself, is an index of the most recent articles from all categories.

Although a limited number of articles are on display in each indexes, by clicking the "Next" link at the bottom of each page, you can view older articles. It is often useful to locate articles published recently. In general, articles stay on the main index of the Comic Book Bin no more than one week, as they are pushed further down the list.

Comics

In the Comics, there are sections dedicated to news from the comic book industry, and columns. Within the Reviews, you will find four subsections covering DC Comics, Marvel Comics, comics books from various publishers and back issues. Both DC Comics and Marvel Comics have dedicated reviews' category because they publish more books than other publishers and because there are generally more reviews covering their comic books.

The column section contains many subsections. Some of the columns feature only one author, such as Leroy's Mr Charlie and Philip's Thought Bubbles. Sundry articles related to comics are usually inserted in the Spotlight category.

Euro Comics feature reviews and feature articles on European comic books by several authors. Sometimes, these books are translations, sometimes, they are the original versions' Non-English languages.

The Manga subsection, of course, couvers Mangas, but also manwhas from Korea, and other Asian comics. It also covers titles created in the West but in the Manga tradition. Another column is Comics 101 where people new to comics, researching them or parents can find out much about them.

Articles and reviews of comics created by Canadians or Canadian publishers are found in the Canuck category. The comics featured can be published in English or French, Canada's official languages. The Comic Book Bin offers this to Canadian creators because it is a Canadian Web site after all. Also Canadian comics are often lost in the North American or European jungles.

Movies

The Movies section has three main subsections, the Movie News, the Movie Reviews and the DVD Reviews. The Comic Book Bin covers more than movies related to comic book properties. In fact, The Comic Book Bin often reviews films that mainstream sites just ignore. Pay attention to this section if you're a dedicated lover of film.

Games

The Game section contains the Game News, Game Reviews and Gaming subsections. In Gaming, you can read feature articles related to games.

If you're looking for a clean, fast and simple way to get news update from the gaming world, The Comic Book Bin's Game News section is exactly what you're looking for. Several industry professionals prefer our simple approach to gaming news, and we're sure you will too.

Action Figures

In the Action Figure section, there are four main subsections related to the three main action figure lines covered and reviewed at The Comic Book Bin. These are DCDirect, Toybiz and Street Fighter. The DC Direct subsection is about toys produced by the merchandising division of comic book publisher DC Comics.

The Toybiz subsection contains action figure reviews by Toybiz, the toy making arm of Marvel Enterprise, owner of Marvel Comics. Toybiz creates many toy lines, some of which are licenses from other properties, such as Lord of The Rings. The main lines covered in the Toybiz subsection are Marvel Legends and Marvel Select. Marvel Legends and related action figures about Marvel Comics characters' six inch action figures line. Toybiz, in collaboration with Diamond Select has created a new line called Marvel Select. Marvel Select are seven inch action figures on Marvel Comics' characters.

Our Street Fighter subsection covers Street Fighter six inch action figures created by toy vendor Sota Toys.

Hasbro has its own section because we cover a lot of their lines, such G.I.Joes, The Transformers and the new Marvel Legends toys produced by Hasbro.

Other subsections in the Action Figure section are Toy News and Collectors. Other Toys contains reviews of various action figure lines and feature articles on action figures.

The Toy Store of the Comic Book Bin is also listed in the Action Figure category. We sell a limited numbers of DC Direct and Marvel Legends action figures. These are often action figures that are sold out elsewhere or prized collectors' items. We ship all our products through Fedex and provide a tracking number. In the past, we have shipped figures to American servicemen located overseas, to Europe, Australia and of course, the continental USA and Canada. Our shipping charges are approximations.

Fan Films

A new section is the Fan Films category, where we cover various independent films, often inspired by existing properties, but produced with a low budget. Because there is so much to cover, we've split that section into Fan Film News, Fan Film Theater, where we show video clips of fan films and Fan Film Reviews.

Our Fan Film section is quite rich and is probably one of the best resource on the topic on the Internet, thanks to other sites who also help out with contents.

Books

Our Book's Category is about any book or magazine that is of interest to our readers.


Interviews

The Comic Book Bin's Interviews category offers several interviews from any topics we already cover at the site. It's a good way of getting a good snapshot of what The Comic Book Bin really is.


Utility Pages

The next sections in line are utility pages of the Comic Book Bin. The About features profiles on participants at The Comic Book Bin and information on the Web site and links on other Web sites related to the Comic Book Bin or of interest to our visitors.

The Bin also publishes a free calendar of events such as comic book book conventions and new movie releases. Vendors can send us their special events to be listed in our calendar. it is a free service.

The Contact page contains all information needed to contact the Comic Book Bin. Next are our recruitment page.

Information on advertising rates at The Comic Book Bin is also available.We use specific time periods instead of CPM. We find it easier to manage and to understand. Ads are not rotated, once scheduled. We accept Flash, Gifs and JPGs. There are three format available, but other opportunities exist for custom advertising.

Other Sections of The Comic Book Bin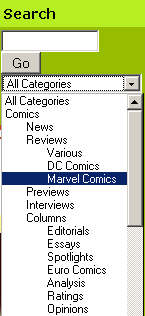 The regular Search Tool
The Newsletter is where you subscribe to The Comic Book Bin's free newsletter.
The Comic Book Bin also host a free classifieds system where collectors can exchange, sell or purchase comics, action figures and other goods with other users. Participants are responsible for each transactions they are involved with as The Comic Book Bin does not screen or vouch for any user of the classifieds.
Using the Search Engine
There are two search utilities at The Comic Book Bin. The regular search allows you to search a keyword on the site. For example, if you want to list all X-Men reviews on the site, simply type X-Men in the search box click the go button. All articles on the site where the word "X-Men" appears will be listed. To improve your search, you could select only Marvel Comics, using the drop down menu.
The "Advanced Search" link underneath the search drop down menu allows you to specify dates when searching for a keyword, search in our archives or, specify the number of results you want to display when searching.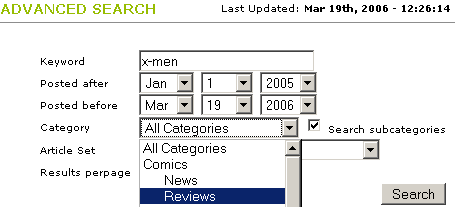 Using The Advanced Search Tools
For example, you could search for X-Men reviews in the reviews' subcategory between January 1, 2005 and March 19, 2006. Using the article set, you can search through our archives. About our archives, they contain older news from our comics, movies, action figure and game sections. They also contain previews from the comics' category. Older columns are also archived there.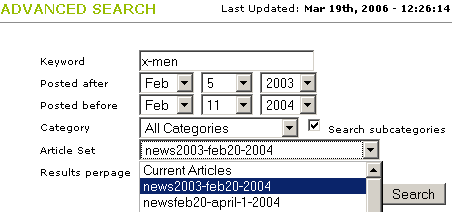 Searching Through Archives
The current article set is the current live section of the site. The other set are archives that were compiled from the current set of The Comic Book Bin. Archives are only available through our Advanced Search interface. If you want to look for all articles in a specific archive, put nothing in the box and all articles will be displayed.
If you have any questions about using The Comic Book Bin, please reach us using our contact page.
Help page for visitors who cannot see any of the images at The Comic Book Bin
Last Updated: September 6, 2021 - 08:15