Why No Jason Bourne Action Figures?
By Hervé St-Louis
August 15, 2012 - 15:42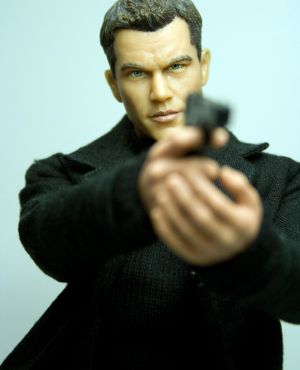 Source: Raymond Ferraro
The fourth movie under the Bourne franchise based on Robert Ludlum's eponymous book series has just launched last week, yet, there are no official Bourne-based action figures of this very popular series of movies from Universal Studios. Why is that?
Well, hot properties like the Bourne series of movies featuring characters Jason Bourne (played by actor Matt Damon) and Aaron Cross (played by Jeremy Renner) are mired in licensing hell and complications that makes producing action figures of the popular spies more difficult than the effort each assassin has put to topple their parent spy agencies. The movies rights are owned separately from the book rights. The first Bourne trilogy of books was written by Ludlum and published originally Richard Marek and subsequently by several publishers including Bantam and Harper Collins.
The copyrights to
The Bourne Identity
,
The Bourne Supremacy
and
The Bourne Ultimatum
novels remain with Robert Ludlum's estate which manages the rights to Ludlum's Bourne and other novels through Ludlum Entertainment. Ludlum Entertainment has given Universal Studios the exclusive rights to the Jason Bourne character and a first look at other novels. That means that Universal, after having to buy rights from other studios such as Warner Brothers which produced
The Bourne Identity
as a television mini-series in 1988 will no longer has to buy the rights from a myriads of publishers and studios each owning a small share of Jason Bourne.
However, Ludlum Entertainment kept the rights to assign licences to the Bourne-related video games after buying them back from Vivendi in 2009. Currently, the rights have been licensed to Electronic Arts. LudlumEntertainment remains a partner with Universal Studios in future Bourne-related productions.
If you're still reading this, you may wonder where do the action figures come in? Well, it seems that Ludlum Entertainment has the rights to the Jason Bourne character but an action figure based on the likeness of Matt Damon or Jeremy Renner would probably need approval and a separate license from Universal Studios. While clearly not an impossible task for enterprising action figure makers, it may not be worth the effort, given the lack of clearly interesting supporting characters and villains that could be turned into action figures. At best, a one off action figure series based on Jason Bourne and Aaron cross might be more feasible. However, Renner was an untested main actor in the latest Bourne franchise while Damon did not appear, except in photographs. Perhaps if the next Bourne move features the two actors, will fans of the series – and there are many of them around would be willing to collect action figures of the two main spies or perhaps stylized statues of important moments from the film. But again, all of that is subjected to the willingness of Ludlum Entertainment and Universal Studios to work with toy producers.
Last Updated: September 6, 2021 - 08:15