Transformers Alternators: Smokescreen
By Heli88
January 31, 2004 - 13:08
Smokescreen is awesome. He reminds me a lot of the Car Brothers from Car Robots (Robots in Disguise). Very foldy transformation with tight tolerances. The interior of his car mode is very well done (although the back seat is pretty much just folded up legs), and I love all the car stuff he can do, like opening doors, hood, and trunk, and the linked steering on his front wheels. He rolls well in car mode, and has plenty of ground clearance. It's easy to see why folks have been impressed with this mold.
I would've liked a bit more arm poseability (he really needs a bicep swivel), but I don't know where they could've put it. Smokescreen is really crammed into his car mode, using pretty much all the available space. As it is, he's got some nice poseability (though the tops of his legs have a tendency to get in the way of his waist articulation), and he's kind of reminiscent of the first year TFs in that the majority of it is required by his transformation, and he doesn't have much poseability that doesn't serve a purpose in getting him curled up into a car.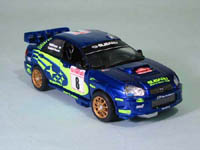 As far as the differences between this and the Japanese version (and of course I'm just going by pictures), the only thing I really see is that he's a lighter blue and not sparkly. The blue plastic Hasbro used has a nice shiny finish that's entirely car-appropriate (and showed my greasy lunch fingerprints quite well...). He's a big guy, so I'm sure the metal version had some serious heft, which this one is missing, but lighter = less likely to shelf dive, IMO. Long story short, for $35 less (not to mention shipping), I am perfectly content.
Read related articles such as:

Last Updated: September 6, 2021 - 08:15