Interview with Rob Ruffolo
By Hervé St.Louis
January 3, 2004 - 14:18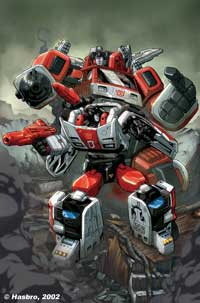 Rob Ruffolo was interviewed at the Montreal Comic Book Expo.
Hervé
Hervé: How did Dreamwave start?
At first it was with Pat and his brother Roger Lee. In 1996, they published Dark Minds through Image Comics. They did Warlands, the second series around 1997. Right before Dreamwave got the Transformers' license, they broke off from Image as their own publishing company.
Hervé: How did you get involved with Dreamwave?
I've known them for five years as an acquaintance and a freelancer. I was colouring, did some pencils and became an art director.
Hervé: How do you find working there?
Hectic. I work a lot, keep things running. I've grown real fast since the Transformer's license. A lot of people call us. American companies ask us to do lots of stuff like animation pilots.
Hervé: How do you find comics versus animation?
There are differences. Things such as layouts are loose in comics, but the final stuff are clean. In animation, the keys are loose instead! The type of drawing pencil is different. We don't use automatic pencils in animation.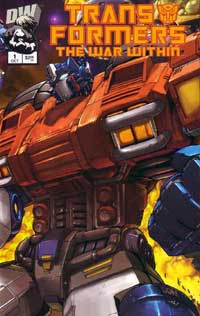 Hervé: How do you find managing personalities?
It's hard. Artists are very sensitive. We're doing a product. Artists have to get work changed. They are sensitive about that. One of the difficulties is figuring out the personalities.
Hervé: How do you find the fans?
Everybody is gracious. People understand. They are real nice about asking for autographs, sketches, although some are little pushy. It's amazing. People know so much about the storylines and details. It's flattering that they know so much.
Hervé: How about Internet fans?
Even on our own message boards, they are tough behind the keyboards. You get "haters." But for them to hate you, they have to buy and read the book. If they just like to hate it, that's fine. You're only as good as your last piece.
Hervé: What projects are you working on?
A lot of Transformers stuff like the Generation One ongoing series, the second War Within series, the new Energons series. For Hasbro, there are new toys and a Transformers/ G.I.Joe series with Jae Lee.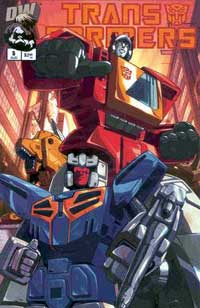 Hervé: Any other comments?
Fanboys are disadvantage. They are pure fans of what they want to see. I'm interested in good quality stuff that's enjoyable for all people.
Read related articles such as

Last Updated: September 6, 2021 - 08:15