Zoom Zoom Back on Tracks?
By Hervé St.Louis
January 25, 2004 - 13:11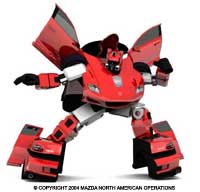 Two weeks ago, Mazda USA took the Transformers' world by storm by unveiling a nameless Autobot based on a Mazda RX-8 car at the Detroit Auto Show. The news spread to major Transformers' sites very quickly and has been the object of speculation since. Mazda USA says that it partnered with Hasbro to produce this model.
Mazda USA has incorporated the new Autobot prominently into its existing Zoom Zoom campaign. On its Web site, visitors can see an animation telling the origin of the Autobot, as created in Mazda's secret labs. The red car leaves the labs, rolls out, and transforms into a robot and spins around skyscrapers. Transformation animation sequences are available too.
So far, Hasbro, Mazda USA and Takara, the Japanese company that usually designs Transformers before they are imported in North America have not provided any information. This lack of feedback has led Transformers' collectors to find answers through their usual source of information - rumours, gossip, "insider" sources and outright invention…
Who is it?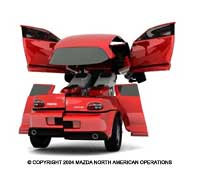 Fans' most pressing question is who the heck is that red Autobot? Based on available images from Mazda USA's site, some have mentioned several Generation One (G1) characters such as Jazz, Overdrive, Windcharger, Cliff Jumper and even some Decepticons! Identifying the character is hard because his colour scheme, car type and robot mode doesn't match with any G1 Autobot.
There are several red G1 Autobots. The only ones that we can eliminate completely are Optimus Prime and Sideswipe. Each of them is already available as Transformer Alternators. Other Autobots would not fit because of their car type. Ironhide, Inferno and Warpath are respectively, a van, a fire truck and a tank. Still, is the car colour a reliable method of identifying a character?
Hasbro and Takara have changed the colours of Smokescreen, their first available Transformer Alternator to match a real rally car. The Mazda RX-8 is a sports car. A prime candidates' list, could even include Hot Rod, although there was no flame decal on the Mazda car. One of my personal favourites for the Mazda RX-8 is Windcharger. He was red, as sports car and small.
No matter how much I try to push Windcharger, even I have to admit that there are better candidates. Using the robot and transformation mode, the best candidates would be Jazz and Overdrive. In close-ups of the new toy, one can see that he sports goggles. Jazz and Overdrive both had goggles and shared a similar robot mode, using the front of a car as their chest plate.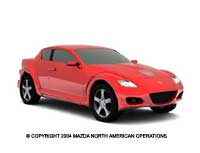 It depends on popularity. Jazz is a very popular character. Overdrive wasn't. Jazz is widely known and has been reproduced in comics and toys several times. Overdrive is obscure and has had limited exposure. Naming the character Jazz would guarantee Hasbro and Mazda USA instant sales. Calling the character Overdrive would not work as well with old fans.
There are several reasons why I would prefer this car to be Overdrive though. Jazz is a Porsche. Jazz is not red. Sure, Hasbro can release a white variant of this car. However, Jazz, unlike other Transformers has historically never shared his sculpt with others. He was unique. The only compromise I see, is to release the red car as Overdrive and a white version as Jazz.
Back on Tracks ?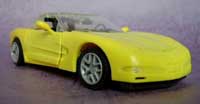 This week, another development in the Transformers Alternators line has attracted the attention of fans. An Asian site has released prototype pics of a the future Tracks Alternator Corvette. The prototype found its way to an auction site even faster! The prototype has missiles in its robot mode and a head shape reminiscent of our favourite transforming Corvette. But is it for real?
It probably isn't. I'm not basing this on the odd yellow colouration. It's a prototype. I'm not basing my opinion on the lack of details either. There's something odd with the car's sculpt. It transforms exactly like Tracks used to, but that's the problem. The front of the car becomes Tracks' legs. I don't believe that Hasbro nor Chevrolet, would design a car whose front hood is sliced in half.
In terms of design, it doesn't work. Too much care has been taken by past Transformers Alternators to minimize cuts for Hasbro or Takara designers to put one so obvious there. Second, this prototype made its way to an auction site too quickly. The seller is from Hong Kong. Takara's designers are Japanese. How did a seller from Hong Kong end up with a prototype?
Third, Hong Kong is a great source to find new toys before they make their way to other markets. There are already several cloned toys from China. If one wants to find a Jetfire Transformers, it's quite easy to buy a fake Valkyrie from Hong Kong. Why wouldn't it be that easy to get other Transformers toys from Japan that match the scale and looks of an Alternator? Buyers beware.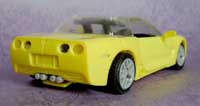 Read related articles such as:

Last Updated: September 6, 2021 - 08:15