Comics / Manga / Yaoi Manga
Ellie Mamahara's Alley of First Love (Boys' Love)
By Leroy Douresseaux
July 18, 2008 - 13:42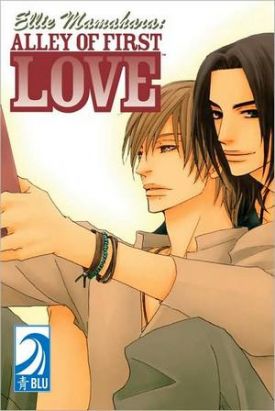 Thanks to barnesandnoble.com for the image.
Rated "OT" for "Older Teen"
Alley of First Love is a "BL" or boys' love manga about the reunion of former best friends Shusuke Kuroda and Atsushi Makino. After six years studying abroad in England, Atsushi returns to Japan under the cloud of scandal. Shusuke is just glad to have him back because he never said "goodbye" to Atsushi when he left, nor did Shusuke ever express his true feelings for his long time friend. Now, they're reunited, but it looks as if missed opportunities may once again keep them from finding the alley of true love.
In Alley of First Love, manga-ka (creator) Ellie Mamahara has created a delightfully spry story about reunited, young lovers. Both Shusuke and Atsushi are enchanting characters, almost quaint in the way they're both like awkward pre-teens dating for the first time. The narrative never really dries up because Mamahara sprinkles it with a sizable cast of supporting characters. She brings them out just at the right time, using them to move the narrative, introduce a plot twist, or just add some color (especially Atsushi's kindergarten-age nieces, Mimi and Momo).
Her heavily stylized art, which at times, resembles 50's-era newspaper comic strip art, is nice even when the figure drawing doesn't quite convey the appropriate characterization or mood/feelings for a particular scene. Still, Alley of First Love is a gentle enough boys' love manga for older teen readers. It presents the trials and tribulations of gay love as not really being different from the struggles that come with any young love.
B+
Last Updated: May 19, 2020 - 12:25