Comics / Comic Reviews / DC Comics
The Helmet of Fate: Detective Chimp #1
By Al Kratina
March 5, 2007 - 14:46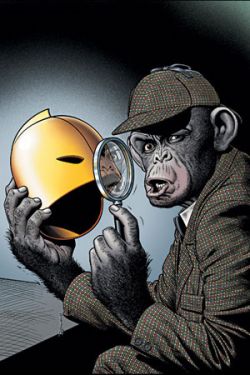 At first blush, one might think that writing about a talking chimp who is a professional private investigator is the sort of thing an editor would assign to someone who used to work in the mailroom. However, it tends to be with these less-popular, quirkier characters that creators have the most fun, and so multiple award winner Bill Willingham (

Fables

) has been given the chore/job of writing 22 pages about a magic monkey. And, yes, I do know that chimps are great apes, not monkeys, but 'alchemical ape' doesn't have quite the same ring to it.

And what a 22 pages it is. In the course of the issue, Detective Chimp deals with a quadruple homicide, temporarily becomes Dr. Fate, solves every unsolved murder in a Gotham precinct, discovers Kentucky Fried Chicken's secret recipe, learns to knit, and types out the complete works of Shakespeare while sitting at a typewriter for all eternity.

Detective Chimp

is the first of 5 issues in the

Helmet of Fate

series that will decide the new Dr. Fate and pave the way for an ongoing series. The fact that the Universe, and the DC editorial board, even briefly considered a talking monkey (yes, I know, but it still just sounds better) as the new Dr. Fate is funny enough, but Willingham's light touch only makes it funnier. However, while Detective Chimp is dry and mildly curmudgeonly, he lacks a bit of character definition, aside from the two modifiers above and the novelty of being a monkey. Still that carries him pretty far, and Willingham keeps things moving quickly enough that it doesn't feel as empty as it is. Some background regarding where the Helmet of Fate has been over the past year is provided, and all told, it's diverting and entertaining enough.

Shawn McManus' art is also light and funny, comedic caricatures that fit the writing well. Personally, in terms of the art, the funniest part of the book is the Brian Bolland cover, as his ultra-realistic style makes the monkey (I know!) in the Sherlock Holmes outfit look all the more absurd. When he's presented in McManus' broadly comic style, the humor still functions, but in a little more obvious fashion. I would have preferred a more realistic style, to let the ludicrous conceit of the character stand out, but I suppose having Alex Ross paint an issue of

Detective Chimp

would be kind of ridiculous, or at least, just as ridiculous as having Bill Willingham write it.

Rating: 6 on 10
Last Updated: June 23, 2021 - 00:45