Comics / Comic Reviews / Marvel Comics
The Punisher #57
By Geoff Hoppe
May 14, 2008 - 14:42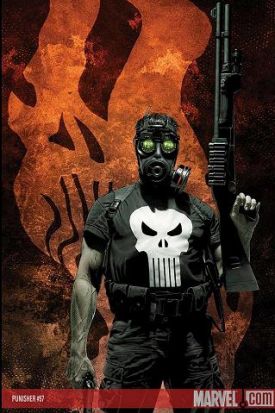 I am Darth Vader from the planet VULCAN!
Wait-- a Garth Ennis comic without eviscerations, castrations or gratuitous sex? What the heck, Garth?! I paid my three bucks! I expect brainless violence and lots of it! I expect nudie pics! Where's the shock?! Where's the knee-jerk sensationalism?!
GRGHG! HATE YOU! STOOPID COMIC!
HUMMPH. In the Punisher #57, Frank Castle (the Punisher) is again hunted by the Delta Force team assigned to bring him in. He evades them by exploding a crate of flash-bangs in their face (which, I admit, is legitimately cool) and escaping into the sewers. The Punisher leads the humbled Delta Force unit to a graveyard chock-full of pathetic fallacy, where a little well-placed dynamite makes for a stalemate...
As referenced above, the hallmark of this issue is its lack of blood and guts. Frank Castle, being ex-Special Forces himself, refuses to kill the soldiers tasked to hunt him down. This challenges not only Frank Castle, but writer Garth Ennis, who proves (for an issue) that he doesn't need to make The Punisher look like a Tarantino film for it to be entertaining. It is a bit of a gyp to the regular readers, though, for whom the "EXPLICIT CONTENT" warning on the cover should guarantee scrumptiously adolescent amounts of unmitigated pain. Honestly, it's like truth in advertising doesn't exist anymore...
Goran Parlov's simple, almost comic-strip style works well enough, but the fact that he draws the characters' eyes bulging every few panels gets annoying, and lends an awkward smugness to the tragically bloodless proceedings.
Worth the money? Nuh uh. No way. Not until I see a med school lecture's worth of dissections. I mean, I actually had to read this time-- that ain't the Garth Ennis I know!
Last Updated: June 23, 2021 - 00:45