Steve Ditko's Passing - This Article Should Not Be

By Hervé St-Louis
July 7, 2018 - 16:22
Born on November 2, 1927, cartoonist Steve Ditko, creator of Mr. A, the Question, Captain Atom, the Creeper, Hawk and Dove, Shade the Changing Man, Doctor Strange, and Spider-man passed sometime in the last week of June 2018, alone in his apartment and was discovered by acquaintances a few days later. News of his death was announced to the public on July 6, 2018.
Ditko was known for being the co-creator of Spider-man and Doctor Strange, Marvel Comics characters that have garnered much success for the publisher in comics, in film, in toys, in games, and product licensing. Spider-man, specifically, for years was the most popular Marvel Comics character and the only one capable of competing with DC Comics's Superman and Batman.
For DC Comics, Ditko created the Creeper, and Hawk and Dove. His creations at Charlton Comics, Captain Atom, the Question, and the revamped Blue Beetle were subsequently bough by DC Comics and later, adapted by Alan Moore and Dave Gibbons into alternative characters Doctor Manhattan, Nite owl, and Rorschach, in the 1986
Watchmen
series.
Ditko was a follower of Ayn Rand's objectivism. According to comic columnist Thom Young, Ditko's philosophical ethos can be seen in his comic work in
Spider-man
,
Hawk and Dove
,
the Creeper
, and
the Questions
, which he writes, Ditko described as a cleaned up Randian version of Mr. A. I questioned the utility of writing this article, as to best commemorate Ditko, little should be said about his passing and his work.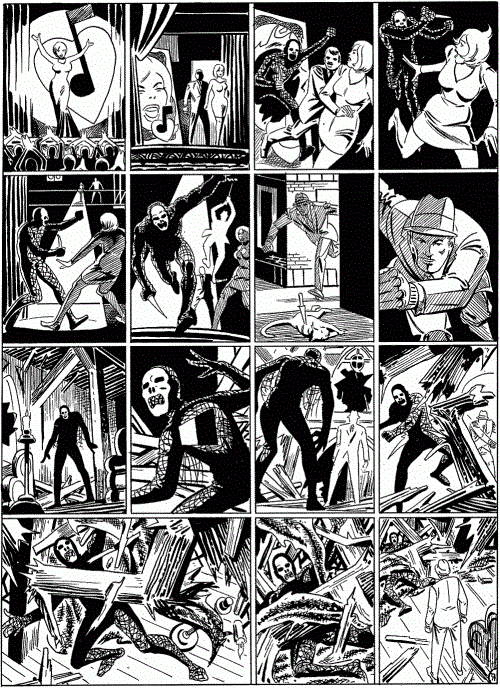 Mr A
Moreover, I have never read
Mr. A
which would probably be the most authentic vision of his philosophical beliefs in comic form. Objectivism is a philosophical theory concocted by Ayn Rand in opposition to Romanticism. Romanticism is not about the romantic and lovestruck perspective that people think. Romanticism is a 19th century movement that reacted against modernism brought about by mathematician René Descartes, and best known as the 16th century's age of reason.
Romanticism was a call for emotions and subjectivity that gave rise to the modern novel, like Henri Stendhal's
Le Rouge et le noir
(
Red and the Black
), visual arts work by Francisco Goya. Ayn Rand's objectivism sought to control and negate the temperamental excesses of romanticism with a dogmatic and restrained view of the world devoid of beliefs in the natural, super beings, magic, and irrational thoughts. In objectivism, man could only rely on himself and was to pursue the maximization of his own benefit.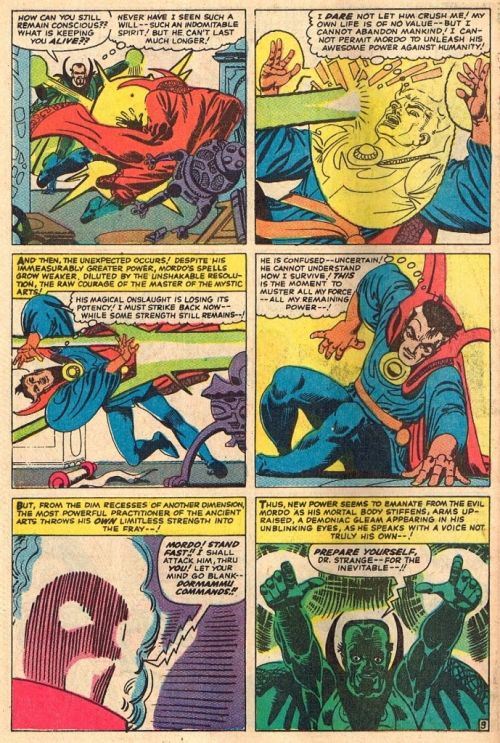 Dr. Strange
Laisser-faire
capitalism and self-resourcefulness became the ideals of the rational objective man where facts were fixed and not changeable. Resourcefulness is one quality that Ditko's heroes had as seen in this popular page he drew for
Amazing Spider-Man #33
where the young man against all odds lifts an armature too heavy for him. Ditko liked to portray his characters as going through journeys and learning lessons from life before becoming better men.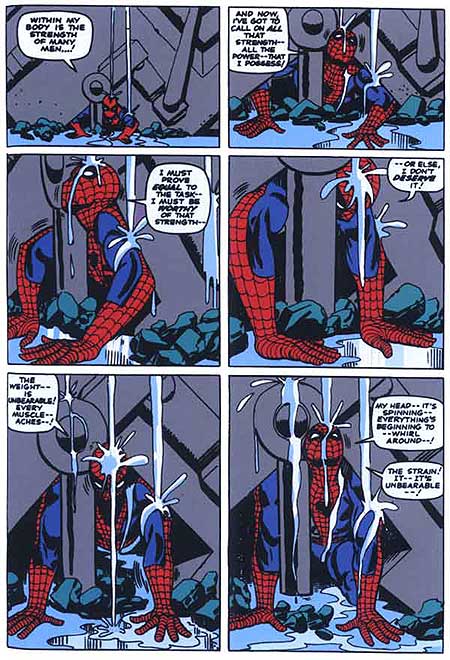 Amazing Spider-man #33
According to Young, Ditko's adherence to objectivism may have caused conflicts with him and his co-creators on Spider-man, on Hawk and Dove, and the Creeper. The columnist writes that Ditko would frequently write long diatribes criticizing comments or scripts that departed from objective principles he imbued his characters with. These conflicts would make him quit his work, as would be the case when strictly adhering to objectivism. No compromise was possible as there is only black and white.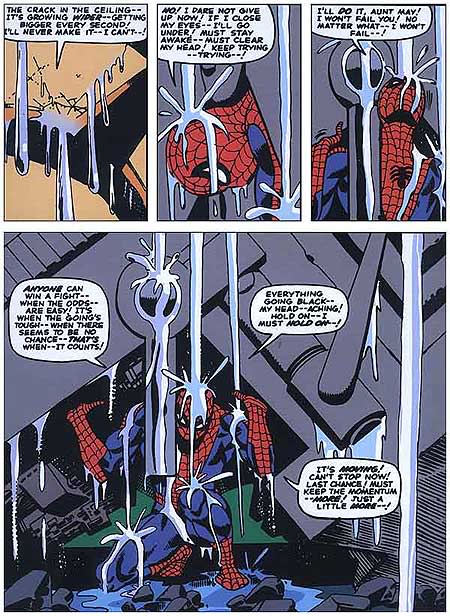 Amazing Spider-man #33
For Ditko to remain true to his own truth, he had to quit and accept that he might have made bad decisions in his business dealings. Ditko never sought to change his compensation as one of Spider-man's co-creators. Many comic book creators or their families frequently challenge earlier contracts that they deem unfair. He never challenged Stan Lee's views about the creation of Spider-man either. Neither did Ditko have much a family to take upon such a legal endeavour with Marvel or DC Comics. He apparently was never married and had no children. If a member of his immediate family ever sues Marvel or DC Comics, it would be an action that Ditko himself would disapprove.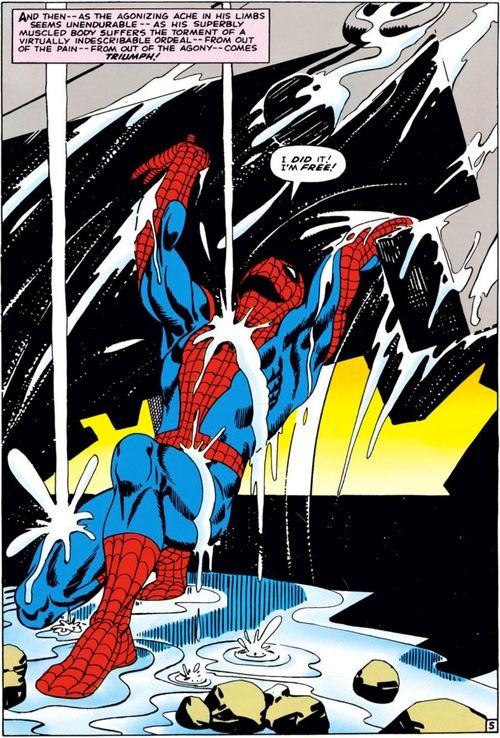 Amazing Spider-man #33
Ditko's art was not spectacular yet was distinctive. His backgrounds did borrow much from the romanticism he despised but perhaps he used that to better portray the singularity of the objective loner in contrast to the turbulence he fought. I perceive this as the most interesting part of Ditko's work. Comic art is invariably subjective and irrational. It is never modular, and balanced for that creates monotony in a page. Passion and romanticism are needed when creating comics.
Ditko's work lacks the clean art-deco used to promote Randian-based art seen in the original covers of novels such as
Atlas Shrugged
and
The Fountainhead
. Instead, surrealism is often present in his work as seen in Doctor Strange. Yet, Ditko's signature layout is the nine-panel grid which is one of the most optimized way to present information in a comic page. The nine-panel grid and other similar permutations such as the two-panel, the four-panel, and the six-panel grids, have a symmetry that impose rationality on storytelling. Whatever is contained within the panels is constrained by a Cartesian plan that governs the presentation of an anarchic and subjective world.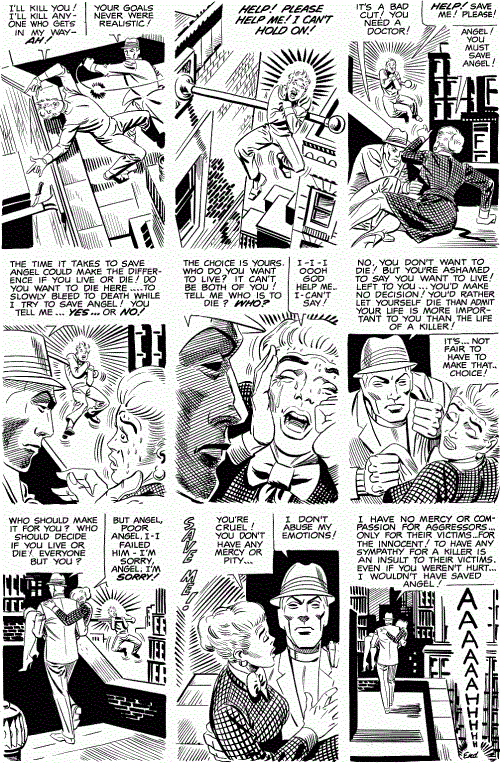 Mr A
Offering condolences as well as the purpose of this article betray the intent and ethos of Steve Ditko. To better commemorate this important cartoonist, nothing else should be done. If he followed his ethos until the end, and did not regret anything, then he would not believe in an afterlife nor would he want any grandiose review of his work. As such, we will not formally offer the possible Ditko family members and close associates any condolences. Let the man be and pass.

Last Updated: April 9, 2021 - 22:22