Psycho Busters Volume One
By Julie Gray
February 14, 2008 - 16:03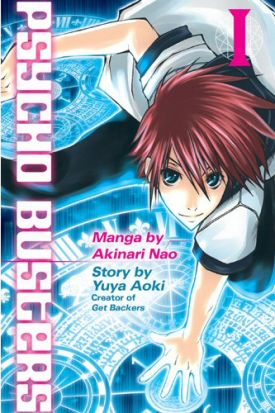 Psycho Busters Volume One cover
"Mystery Girl"…
Looks can be very deceiving. Fifteen year old Kakeru is about to embark on the ride of his life after his supernatural encounter with a transparent 'ghost' girl in his bedroom. This may all sound rather strange but what's even more whacky is the fact that the girl was completely naked! Although I don't know too much about the concepts behind 'Astral Projection', in
Psycho Busters Volume One,
scientific anomalies like astral projection are regular occurrences.
If you enjoy supernatural stories that blend action, a little romance and focus on the weird and whacky world of the paranormal, you will certainly enjoy
Psycho Busters
. Written by the author of
'Get Backers'
an extremely popular manga and anime series,
Psycho Busters Volume One
is viewed through the eyes of an ordinary teenage boy living a fairly uninteresting teenage life. What Kakeru doesn't realise is that his life is about to become anything but ordinary.
The characters are introduced in chapters that are set out like case studies for patients throughout the manga beginning with Kakeru and slowly working through the group of psychic teenagers that Kakeru discovers.
The book is full of quirky humor which didn't seem out of place in the story and Kakeru comes across as a seemingly likeable character. We also discover that the strange psychic teenagers that Kakeru has befriended are not at all what they seem. They have secrets and by all accounts, seem to be in hiding from an organisation called 'The Farmers' who are trying to hunt them down. When Kakeru witnesses one of the teenagers in action, he begins to realise that his life is now in danger as well.
One particular nasty villain is also briefly introduced and slowly the story starts to piece together. I am concerned for our 'ordinary' boy, Kakeru. What will these newfound 'friends' have in store for him and to where will this dangerous adventure take him? Drawn in by the beauty of the astral projecting girl Ayano and the opportunity to help someone in need, Kakeru is more than willing to follow the group.
With the introduction of the characters in volume one the stage is set for a good versus evil battle of psychic will. Although there is an air of mystery surrounding Kakeru, it's clear to see that Kakeru is the gel of the story that brings all the other characters together.
The artwork in the book seems very reminiscent of
'Bleach' .
Akinari Nao really enjoys drawing the characters with their tongues sticking out and is also a big fan of full page action sequences with big, bold lettering to emphasise the action. It all works well for this manga.
I am interested to see how the characters and story develop from here on in and anyone with an interest in the supernatural should find this manga equally entertaining.
Psycho Busters Volume One
comes complete with translation notes, a note from the creator, illustration gallery and a sneak peek at the next volume in the series.
You may view a preview of this manga
here
and the official Del Rey website for this manga is
here.
Art Work:
6/10
Story:
7/10
Overall Rating:
6.5/10
Contact the author of this review:
Julie@comicbookbin.com

Last Updated: June 23, 2021 - 00:45