Psycho Busters: Book Two
By Leroy Douresseaux
Mar 29, 2009 - 5:10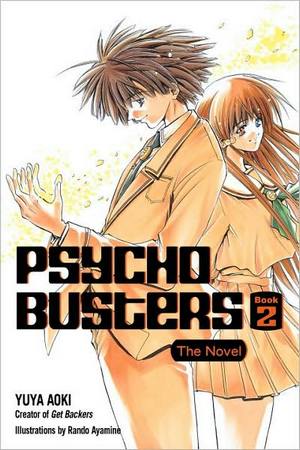 Psycho Busters: Book Two cover image is courtesy of barnesandnoble.com.
In the Japanese action/fantasy novel Psycho Busters: Book One (published as Saikobasutaazu 1, in Japan), readers met Kakeru Hase, an outcast 14-year-old who befriends a quartet of young people with extraordinary psychic powers. Psycho Busters, written by Yuya Aoki, inspired a popular manga series of the same name (also written by Aoki and drawn by Akinari Nao).
As Psycho Busters: Book Two (published as Saikobasutaazu 2, in Japan) opens, Kakeru may still be a dork, but now, he has friends – the four young psychics he befriended and helped rescue. Xia Long Baim, Kaito Himuro, Jôi Tama, and the lovely Ayano (who can project her astral form far away from her body) attend Kikyoga Oka Junior High School, but Kakeru's four friends aren't the only new students.
The shadowy conspiracy at the Greenhouse, a facility in which psychics with supernatural powers are trained and essentially imprisoned, still seeks to recapture Ayano and her friends. Maya Kasuga, Sho Amamiya, Fuyuko Isshiki, Toya Atatsuki, and Jun Tokoroki, a powerful boy with sinister psychokinetic powers, are posing as students and are stalking their former Greenhouse colleagues. The operators of the Greenhouse also want to acquire Kakeru, whom they believe is a psychic. Although he doesn't believe he has psychic powers, his new friends believe that Kakeru used those powers to save them, and Jôi believes that upcoming events will reveal the dangerous truth about Kakeru.
THE LOWDOWN: A "light novel," is a short novel with anime- or manga-style illustrations that is marketed to teen and young adult readers. Psycho Busters: Book Two, like its predecessor is a light novel, but it doesn't offer as much entertainment value as the first. Probably because it is the middle of a three-book series, Psycho Busters: Book Two seems to be waiting for something big to happen. Even the climatic battle scene at the end isn't so climatic, except for the big reveal about Kakeru. Katy Bridges' translation does keep things interesting with occasional moments of inspired dialogue, especially Kakeru's internal monologues. The spot illustrations by Rando Ayamine, with their weird style, are intriguing.
POSSIBLE AUDIENCE: Fans of the series will want to read Psycho Busters: Book Two, while there is little of interest for other readers.
C+
Last Updated: Jun 26, 2018 - 9:28