Psycho Busters: Book One
By Leroy Douresseaux
Sep 24, 2008 - 7:37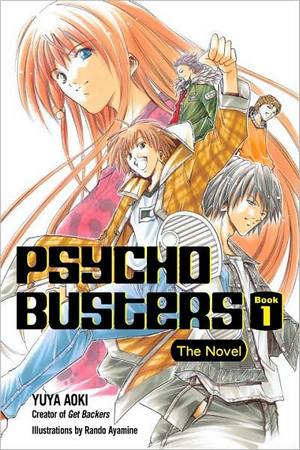 Thanks to barnesandnoble.com for the above cover image.
The Japanese action/fantasy novel Psycho Busters: Book One (published as Saikobasutaazu 1, in Japan) inspired a popular manga series of the same name written by Psycho Busters creator Yuya Aoki and drawn by Akinari Nao. This novel (also written by Aoki with illustrations by Rando Ayamine) focuses on an outcast teenager who gets pulled into a shadowy conspiracy involving young people with extraordinary psychic powers.
Call him a dork or a nerd (as his family and classmates do), but Kakeru likes to be alone, enjoying peace and quiet – and video games and action figures. On his own when his family leaves for a vacation in Hawaii, Kakeru is enjoying the solitude of his bedroom when he suddenly discovers a mysterious, beautiful girl in the room with him. Her name is Ayano, and what Kakeru is seeing is an astral projection of herself sent by the real Ayano.
Ayano and two of her friends, all three of them possessing astonishing psychic powers, are on the run from a shadow organization and its minions, known as the Farmers, that wants to exploit their talents for its own dark ends. How can the skinny and hopelessly ordinary Kakeru help them? Well, it looks as if it's his destiny. He even manages to gather a few allies, including his high school's tomboyish custodian, Akira Hiyama. After their attackers come to believe that Kakeru also possesses incredible psychic powers, they send a psychopathic psychic hunter after Kakeru for what will likely be a life-or-death confrontation.
THE LOWDOWN: The prose Psycho Busters is a "light novel," a novel with anime- or manga-style illustrations and marketed to teen and young adult readers. For adults, Psycho Busters: Book One will be a quick breezy read, and they may enjoy it, as the story is actually entertaining. I find that the translation lends itself to easy visualization of the plot, settings, and characters – playing the narrative like a fast little action movie in the reader's head, which is more than I can say about some grown-up books.
POSSIBLE AUDIENCE: This is mainly for young readers, although older fans of the Psycho Busters manga might also like this.
B
Last Updated: Jun 26, 2018 - 9:28