Invincible #29
By Geoff Hoppe
September 6, 2007 - 21:19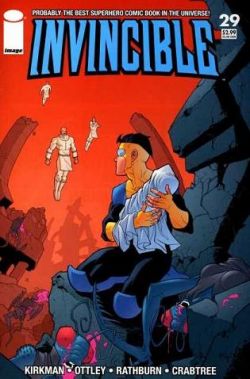 The Three Wisemen: Bruno, Knuckles, and Vinny the Shiv.
A brilliant, space-operatic arc of Robert Kirkman's Invincible slams to an epic halt as five men with godlike powers smash each other silly. What more could you want? Oh yeah, story. Good thing Invincible #29 has plenty of that, too.
The Obligatory Warning: #29 is amazing, but it's not for kids. It has what I call "The Smucker's Effect," where things get so messy it looks like a jelly warehouse blew up. Remember those Calvin & Hobbes strips where Calvin would read hilariously over-violent comics? There're moments like that, only not funny.
The showdown in #29 pits Mark and his father, Nolan, against three Viltrumite warriors sent to bring Nolan home. For those unfamiliar with Invincible, Viltrumites are vastly powerful, stoic conquerors with a collective short fuse. Imagine Clark Kent as an ill-tempered Romulan, and you've got a Viltrumite. What makes this issue interesting is Nolan's transformation from an unemotional Viltrumite to a very depressed, all-too-human character. It's character development in the midst of Beowulf-ian violence: sweet and straightforward.
Worth the money? Yes. Remarkable work from a team that meshes so well it's scary.
Last Updated: June 23, 2021 - 00:45