Comics / Comic Reviews / DC Comics
Greek Street #3
By Andy Frisk
September 14, 2009 - 22:42
Our "hero," Eddie, goes to work for Owen Furey, son of Harold Furey, one of Greek Street's local organized crime family leaders. Eddie's job is to tail Lord Menon, and dig up any dirt on him that he can so that Owen can get some "aristocratic connections," as it were. As is often the case in many families, not just organized crime families, one brother often knows not what the other is doing, often closer to home than one might think. Meanwhile, Detective Inspector Dedalus visits Lord Menon, who we discover is "one of the country's leading experts on the ancient Greek world." Dedalus is looking for information on a page of ancient Greek writing, pulled from an eviscerated body found in an alley. Turns out, the page is from the play Medea, by Euripides. Medea is the tragic tale of "a woman cast aside by her husband, because she's a foreigner. In revenge she embarks upon a quite extraordinary killing spree." As Greek Street readers know, this revelation sheds light on the identity of the murdered and risen woman stalking Greek Street...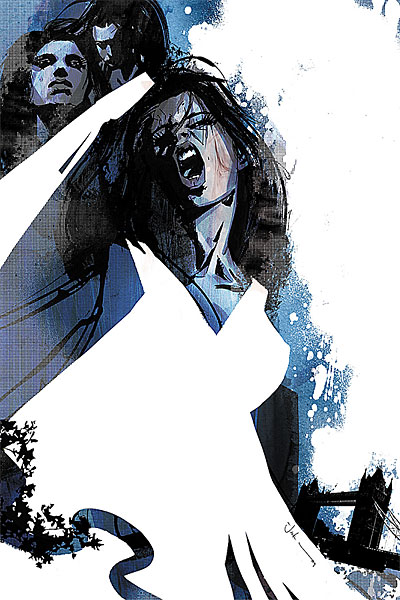 The revelation isn't exactly a shocking one, but Greek Street is a retelling of the ancient stories, which are widely known. It is how Milligan slightly, yet profoundly, augments these tales, breathing new life into them by altering them just as slightly. Milligan is retelling some classic stories, but with a modern twist. As Lord Menon himself states, "...at first glance these tragedies might seem incredibly alien to us...but nothing much really changes. We still struggle against and are invariably destroyed by the same things."
Gianfelice's art continues to fit Milligan's storytelling quite aptly. His stint on Northlanders demonstrated his ability to draw realistic and visually striking historic periods and characters, particularly the Viking warriors of 1000 years ago. He created a particularly chaotic look and feel to his art that visually represented, with its disproportionate flailing human anatomies, what the grip of beserker fury must feel like. Now he turns his talents to the illustration of a tale of modern fury, influenced by ancient fire and supernatural happenings, with likewise success.
Fans of comic books with a literary feel and a brilliant reworking and updating of their favorite classical tales and myths will love this book. Readers simply looking for an intelligent read will love this book as well. Yet another great title from DC Comics' Vertigo line, which is the highest quality and most innovative imprint that ever existed within a major publisher, Greek Street is another example of an intelligent, gripping, and creepy read, worthy of the venerable Vertigo distinction.
Rating: 9 /10
Last Updated: June 23, 2021 - 00:45