Comics / Comic Reviews / DC Comics
Greek Street #2
By Andy Frisk
September 1, 2009 - 19:53
Eddie, our tale's "hero," seeks medical help for his attempt at self-castration, and then gets recruited into The Furey's crime family. Lord Menon's infidelities are discovered by his wife, while his insane and precognizant daughter, Sandy nearly commits suicide. Meanwhile, Investigator Dedalus and his partner investigate an explosion at a morgue where the corpse of a recently deceased pregnant young woman is stolen by three strange and haunting women during said explosion in the examining room. Soon thereafter, a horrifying creature begins to stalk the streets of Soho and Greek Street in particular…
The modern retelling and reconfiguring of the eternal stories of ancient Greek mythology and tragedy continues in DC Comics' Vertigo series Greek Street #2. Peter Milligan, whose resume includes Vertigo classics such as Shade The Changing Man, The Extremist, and a run on Hellblazer, among stints on mainstream titles like Batman, Animal Man, and X-Force, continues to bring us his story comprised of a mix of the Greek tragedies, myth, and modern crime drama, with a hint of the supernatural. Milligan continues to use characters that are loosely based upon classic Greek ones. For example, the young man named Eddie who sought medical help for his attempt at self-castration? Think Oedipus Rex, and of the issues he had with his mother, i.e. accidentally marrying her, etc. etc. and you get the idea why Eddie took such desperate action.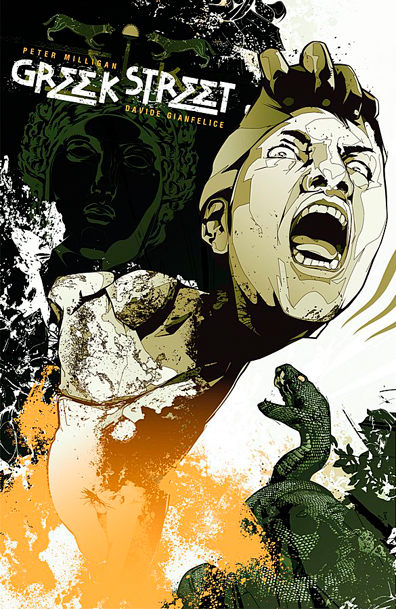 Here though is where Milligan's story deviates from the original Greek myths and tragedies that inspire Greek Street. Eddie (obviously short for Oedipus) knows who his mother was, and had a pretty good idea, if not complete knowledge, of what he was doing. The story is familiar, yet strange. Eddie's story is inspired by Oedipus Rex, but is not identical. This is intentional. As Milligan stated to Newsarama, " Greek Street is a very strange beast…A way of using those fantastically rich stories from Greek Tragedy to take a look at our world and to explore some of the things I think about this world." What we end up with is a compelling crime story, set in modern times, inspired by the tragedies and myths of the past, but filtered though Milligan's creative process and mind.
Take Investigator/Detective Dedalus for instance. Dedalus is the name of the mythical craftsman who constructed the Labyrinth on Crete, where the Minotaur was imprisoned. Investigator Dedalus hasn't yet proven to be mythically cunning, but he is actively engaged in unraveling a crime mystery, and negotiating his way through a maze of clues. It is this slight of meaning, or hint of meaning behind the characters' names that give clue to possible motivations and, more importantly, themes in his work. One doesn't have to be an expert on classical Greece to enjoy, understand, and glean meaning from Greek Street, though. That's the beauty of Milligan's storytelling. A little digging into the myths of Dedalus, Cassandra (Sandy) and the tragedy of Oedipus will open up the tale in ways yet unconsidered, but isn't necessary to enjoy the work.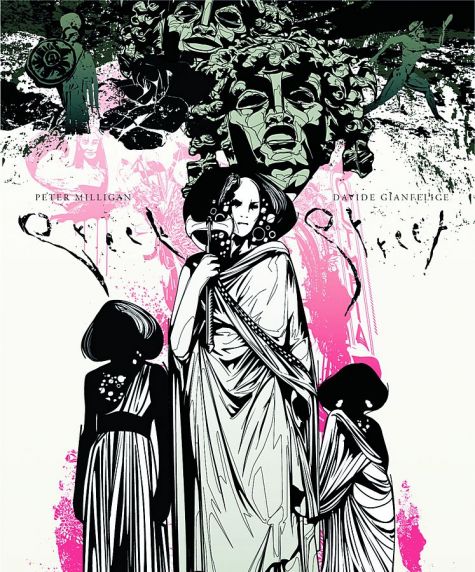 Kako's cover art for issue #3.
Davide Gianfelice's art compliments Milligan's storytelling well. It's slightly disproportionate, and its display of downright horrific facial expressions on many of the characters faces, at times of extreme duress or agitation, match well the equally horrific countenance of the risen corpse stalking the streets of Soho. The similarity of the horrific looks on the real and fantastical creatures (live men and women and risen monsters) reinforces and illustrates, literally, Milligan's assertion that something long dead, the protagonists of the ancient stories and their haunting themes, are very similar to the denizens of today's world, and their stories and themes. The dead and living have much in common, as the lives, struggles, and tragedies of ancient men and women have much in common with the lives, struggles, and tragedies of modern men and women. Truly, the old stories aren't done with us yet, and on occasion, rise again to terrify, and hopefully scare straight, those of us in need of a little scaring.
Very simply stated, Greek Street is another great title launched recently by DC Comics' Vertigo line. There are so many intelligent and worthwhile titles being published by Vertigo right now that none of them should be missed. Greek Street is no exception.
Rating: 10 /10
Last Updated: June 23, 2021 - 00:45