EA SPORTS Unveils Wii Exclusive Line Of Games
By Eli Green
June 26, 2008 - 19:00
Electronic Arts unveiled details of a new, Wii exclusive line of games today. The EA SPORTS All-Play line of games are being designed for social play and feature unique controls, distinct presentation and an inviting play style for casual and regular gamers. " The Wii platform and the Wii consumer are looking for a very unique sports experience," said Peter Moore, president of EA SPORTS. "We're excited to take five of our most popular franchises and develop them from the ground up exclusively for the Wii, with unique controls, unique presentation, unique modes and even unique packaging. Whether you're an EA SPORTS veteran or a rookie gamer, EA SPORTS All-Play levels the playing field and delivers a fresh new gaming experience."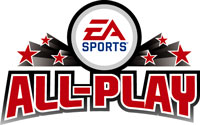 The All-Play lineup will simply be the Wii version of EA SPORTS games, and not new IPs specifically designed for Wii. At first glance, it would appear that the All-Play banner is just a new look for EA SPORTS games on Wii, and that there would be very little difference from EA's current sports offerings that feature EA SPORTS Family Play. Well, All-Play is much more than a banner, and the differences between Family Play and All-Play are pretty significant. While Family Play is just a control system designed to make getting into the gameplay easier for new players, All-Play gives players control over everything in the game., making the games more approachable without dumbing them down. More details on the various All-Play features in each of the five games follow below.
EA will be shipping five games under the All-Play banner this year, including NCAA Football 09 All-Play , which will be releasing next month. Each of the five All-Play games – NCAA Football 09 All-Play , Madden NFL 09 All-Play , Tiger Woods PGA TOUR 09 All-Play, NBA Live 09 All-Play and FIFA Soccer 09 All-Play – will be priced at $49.99 USD/CAD.
More details on the All-Play lineup follows:
NCAA Football 09 All-Play
Release Date: July 15, 2008
NCAA Football 09 All-Play

debuts on the Wii in July with stylized gameplay that is quick and easy for fans to jump in and out of great head-to-head action. The game features All-Play controls, a multiplayer social experience that allows novice users to compete against advanced players and still enjoy success. All-Play controls are designed for the more novice fans, but also feature a traditional default setting for the more seasoned veterans.

NCAA Football 09

All-Play

features nearly 200 schools, making it the most authentic college sports gaming experience available for the Wii.
Madden NFL 09 All-Play
Release Date: August 12, 2008
Madden NFL 09

All-Play

features fun, approachable and innovative gameplay by unleashing the power of the Wii Remote through the all-new EA SPORTS Call Your Shots feature. Call Your Shots allows the player to create his or her own plays on the fly and direct receivers where they should run. Gamers of all skill levels can also enjoy an all-new fast paced 5-on-5 mode which has a reduced field length and big head NFL players. Experienced Madden players or rookies to the game can utilize the all-new play calling system. No matter the skill level, players can be competitive with three playbooks to choose from, ranging from Easy to Advanced.
Tiger Woods PGA TOUR 09 All-Play
Tiger Woods PGA TOUR 09

All-Play

features personalized coaching from Tiger Woods' personal coach, Hank Haney and all types of gamers can pick up this game and have a fun and challenging experience.

Tiger Woods PGA TOUR 09
All-Play
features new graphics and user interface while also incorporating interactive and social mini-games. The standing swing control, the most "true to life" golf mechanic you can find in any video game, truly takes advantage of the Wii console's unique control scheme. The game will also feature online play for the first time with Simultaneous Online Play that allows up to four players the ability to play each hole at the same time.
Check out the Performance Coach preview here:
Release Date:

October 7, 2008 (North America); October 14, 2008 (Worldwide)
Step onto the court and into the fun with a unique basketball experience designed exclusively for the Wii. NBA LIVE 09 All-Play offers more action, more often, with an over-the-top basketball experience designed with everyone in mind. Improved responsiveness and more control options make this game easier and more fun to play than ever before.
Release Date: October 14, 2008
Step onto the pitch and play a unique soccer experience exclusively for the Wii. Enjoy

FIFA Soccer 09 All-Play

one of two ways—a Wii-specific take on the classic '11 vs. 11' simulation or over-the-top '8 vs. 8' arcade action.

Play with your Mii alongside your heroes Ronaldinho, Wayne Rooney and other soccer stars created as customized characters in an arcade version of the beautiful game.

Steal the ball and make outrageous shots by simply waving your Wii Remote. You've never played soccer like this before!

Plus, play Footii Party Games called Table Soccer and Boot It for more great fun with family and friends.
Last Updated: June 23, 2021 - 00:29