Comics / Comic Reviews / DC Comics
Action Comics #855
By Geoff Hoppe
August 30, 2007 - 20:44
Action Comics #855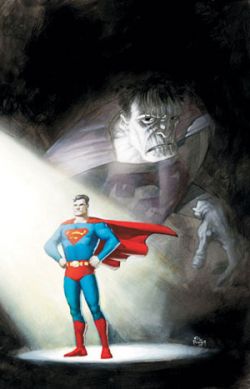 ...he's miss america, and I'm just the horribly mutated genetic clone next door...

There may not be a happier marriage of artist and subject than Eric Powell and Bizarro. He already draws a Bizzaro-world landscape in his own monthly, The Goon. The folks at DC decided to do the obvious thing and have him draw the real Bizarro in Action Comics #855.

Geoff Johns and Richard Donner, director of the original Superman movie, are still writing Action Comics. They take a break from the "Last Son of Krypton" storyline (to be continued in Action Comics Annual) to dig into their new arc, "Escape from Bizarro World." Bizarro abducts Jonathan Kent, Clark goes to find him, and finds that Bizarro World is now populated by Bizarro versions of everyone from Metropolis. Bizarro ambushes Clark, and things get uglier than a hotel heiress in a fast food commercial.

Richard Donner continues to do amazing things with Superman. His adaptation of DC's original superhero is a continuous labor of love. He somehow makes Clark Kent a sympathetic character, which few writers accomplish. There's a remarkable flashback where a young Clark is forbidden to play football with the other kids (so as not to accidentally chuck them into the sun), and his father comforts him by teaching him to use his new-found telescopic vision to watch a pig escape it's pen (this is Kansas, they don't get out much).

Eric Powell isn't a great horror artist because he draws giant, Spanish-speaking lizard monsters. He's a great horror artist because he understands the fine line between humor and fear. Powell's truly unsettling moments aren't the giant spiders with derby hats, they're the maniacal grins and dilated pupils that are eerie no matter how many times you see them. With colorist Dave Stewart's help, Powell's shadowy idiom has never looked more convincing.

Worth the money? If you're a fan of Eric Powell, The Goon, or Superman, yes.
Last Updated: June 23, 2021 - 00:45