Comics / Manga / Yaoi Manga
Yuki Shimizu's ZE: Volume 2
By Leroy Douresseaux
Apr 28, 2009 - 11:45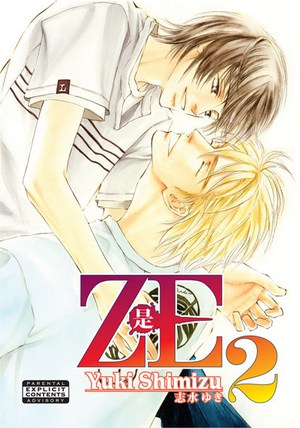 ZE Volume 2 cover image
Rating: "18+ Mature Content"
Alone and homeless after the death of his grandmother, culinary student Raizou Shichikawa accepted an offer to live in the palatial estate of the Mitou family, where he currently earns his keep by working as a cook and housekeeper. Although the Mitou family likes his diligence, Raizou can't help but notice the family's odd behavior. Raizou is drawn to a Kon, a dark-haired young man who is prone to pout. Kon also sells his body, but it is through Kon that Raizou learns of the strange master/servant relationships that exist in the Mitou house.
In ZE, Vol. 2, Raizou and Kon's relationship deepens, and romance is exploding into passion. Just as Raizou seems to be making a breakthrough in changing Kon's behavior, a mysterious visitor arrives and declares that her son is Kon's real master. She snatches the young man and spirits him away to her estate. Where does that leave Raizou?
THE LOWDOWN: After reading the first volume of ZE, I wondered where this series was going and if it could sustain itself, being that it was so unusual. ZE has elements of and similarities to family drama, erotic fantasy, gothic horror, bondage cartoons, and soap opera. And the author sprinkles a generous helping of creepiness like powered sugar all over this.
Members of the Mitou family are "kotodama," meaning they have the power of words; each kotodama uses the power of his words to control his (or her) "kami." A "kami" is a "doll of living paper" who serves his kotodama (master) and heals his injuries. [A character in the series can make kami.] As this series is a yaoi manga (boys' love manga which features explicit sex between male characters), kotodama and kami also have sexual relationships. Kon was a kami without a master, and he'd been selling his body, until Raizou asked the Mitou to let him have Kon in a bid to save him.
The best thing creator Yuki Shimizu has done with this series, thus far, is focus on the flowering romance of Raizou and Kon. They are the calm in this storm of weirdness. Watching this couple stumble through the early stages of romance and the awkward process of consummating their love, which at times seems as if it will never happen, will remind many readers why they love boys' love. It's the romance.
POSSIBLE AUDIENCE: Readers who enjoy character dramas, young gay romance, and can tolerate the weird factor will find a fine treat in ZE.
A-
www.digitalmanga.com
www.akadot.com
Shop for Yaoi Delights.
Last Updated: Jun 26, 2018 - 9:28