Kaze Hikaru: Volume 25 manga review
By Leroy Douresseaux
Nov 8, 2017 - 9:54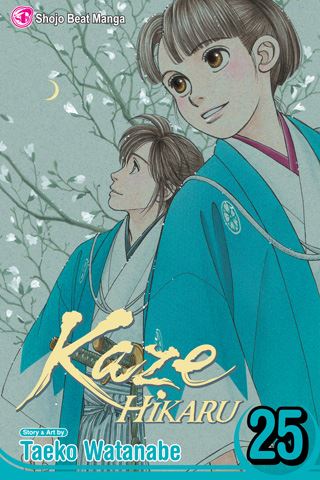 Kaze Hikaru Volume 25 cover image
Rated "T+" for "Older Teen"
It is a time of violent social upheaval as Japan enters a new era in the 1860s. Samurai from all walks of life travel to Kyoto in hopes of joining the
Shinsengumi
, a band of warriors dedicated to the Shogunate bakufu system. In order to avenge her father and brother, Tominaga Sei disguises herself as a boy, takes the name "
Kamiya Seizaburo
," and joins the Shinsengumi. Aspiring to be a true bushi (samurai or warrior), Kamiya trains under
Okita Soji
, the young man she loves and the only person in the Shinsengumi who knows Kamiya's true identity.
As
Kaze Hikaru

, Vol. 25
opens, Shinsengumi vice-captain,
Hijikata Toshizo
, recounts his youth as an aspiring swordsman and his budding relationship with the man who would one day be Shinsengumi captain,
Kondo Isami
. Later, Kamiya tries to save the life of an accountant who is forced to accept a terrible punishment. Plus, Kondo looks to get a woman.
[This volume also contains "Kaze Hikaru Diary R" Part 16]
THE LOWDOWN:
It has been a year since I last read the Kaze Hikaru manga. It was a year ago that the previous graphic novel, Vol. 24, was published. Well, it is basically one graphic novel a year, with this series, but I enjoy reading Kaze Hikaru. Every time I read it, I realize that it is worth the wait.
Kaze Hikaru Volume 25
focuses on the complications that friendships can bring. Although Kaze Hikaru's narrative can be emotionally high-strung at times, creator Taeko Watanabe delivers high emotion and drama. There is a lot of emotion and drama when people believe that their friends are in danger and that they must try to save them. The strength of this series is in such powerful subplots and story arcs, which makes it worth the wait.
I READS YOU REVIEW:
Fans of historical romance and of Japanese historical fiction will like the Shojo Beat title,
Kaze Hikaru
.
A
9 out of 10
Support this writer on Patreon
Last Updated: Jun 26, 2018 - 9:28