Kaze Hikaru: Volume 24 manga review
By Leroy Douresseaux
Aug 26, 2016 - 7:42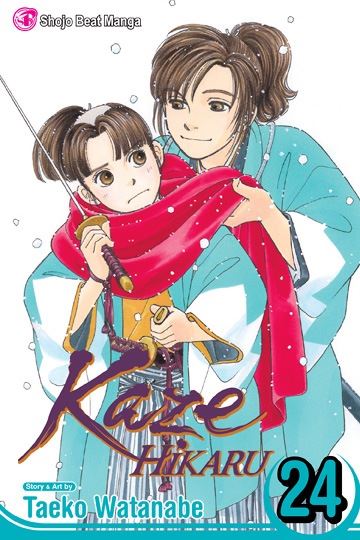 Kaze Hikaru Volume 24 cover image
Rated "T+" for "Older Teen"
It is a time of violent social upheaval as Japan enters a new era in the 1860s. Samurai from all walks of life travel to Kyoto in hopes of joining the
Shinsengumi
, a band of warriors dedicated to the Shogunate
bakufu
system. In order to avenge her father and brother,
Tominaga Sei
disguises herself as a boy, takes the name "
Kamiya Seizaburo
," and joins the Shinsengumi. Aspiring to be a true bushi (samurai or warrior), Kamiya trains under
Okita Soji
, the young man she loves and the only person in the Shinsengumi who knows Kamiya's true identity.
Kaze Hikaru

, Vol. 24
opens as word arrives that the renowned assassin
Sakamoto Ryoma
is active again. Kamiya does not see him as a criminal, but the Shinsengumi has been ordered to deal with him. Against orders, Kamiya travels to
Fushimi
with plans on contacting Sakamoto and his lover,
Oharu
. When Kamiya is discovered, she may be ordered to commit ritual suicide, "seppuku."
Also, before they were
Kondo Isami
, Captain of the Shinsengumi, and
Hijikata Toshizo
, Vice-Captain of the Shinsengumi, they were the rival youngsters, respectively,
Katsugoro of Kamiishihara
and
Toshi
. Now, return to their early years at ambitious teens.
[This volume also contains "Kaze Hikaru Diary R"]
THE LOWDOWN:
It has been a year since I last read the
Kaze Hikaru
manga. It was a year ago that the previous graphic novel, Vol. 23, was published. I enjoy reading
Kaze Hikaru
, but rarely think about it when I am not reading it. However, this new volume will be hard to forget.
In
Kaze Hikaru Volume 24
, creator
Taeko Watanabe
toys with the idea that not one, but two characters could be forced to kill themselves – the two leads. This is not a gimmick, as a major character previously did commit "seppuku," (the late and beloved Yamanami Keisuke, Vice-Captain). I knew it would not happen, but part of me was still worried. There is also an excellent flashback sequence that is as enthralling as the suicide threat is scary. The back story looks to continue next volume, so a part of my imagination will stay with Kaze Hikaru. Admirers of Japanese historical fiction should also engage their imagination with this excellent manga.
POSSIBLE AUDIENCE:
Fans of historical romance and of Japanese historical fiction will like the Shojo Beat title,
Kaze Hikaru
.
A
Rating: A /10
Support this writer on Patreon
Last Updated: Jun 26, 2018 - 9:28