Yurara: Volume 3
By Leroy Douresseaux
November 29, 2007 - 11:34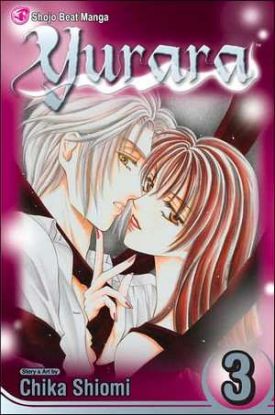 Thanks to barnesandnoble.com for the image.
In the shojo manga,
Yurara
by
Chika Shiomi
, the title character can see spirits of the departed and also sense their emotions.
Yurara Tsukinowa
is a shy, retiring high school girl and something of a ghost whisperer. She even has a guardian spirit – a strong-willed beauty who physically takes Yurara's place whenever the teen is actually threatened by a spirit.
Two handsome, young male students enter Yurara's quiet life at Tokyo Municipal Sanko High School. There is the dark-haired jokester, Mei Tendo, and the glum and serious blondie, Yako Hoshino. Whereas Yurara looks to understand the torment of restless spirits, Mei and Yako often look to do some ghost-busting. Yurara finds herself attracted to Mei, which leaves Yako, who is attracted to Yurara, out in the cold.
In Yurara, Vol. 3, the relationship between Yurara and Mei and Yako becomes a troublesome love triangle, and Yako doesn't plan on being the odd man out. But is Yako really in love with Yurara, or is he smitten with her lovely, dark-haired alter ego? For that matter, Yurara wonders if Mei really loves the skinny, shy girl she is, or is he also in love with something else? Meanwhile, the spirit of Yurara's grandfather, Kumakichi Tsukinowa, suddenly appears to help his troubled granddaughter.
THE LOWDOWN: The chapters contained in Yurara, Vol. 3 are a bit of a change of pace for the series. It remains a supernatural romantic thriller, but in the four chapters that make up this volume, much of the narrative time emphasizes teen melodrama. Absent the book's usual scares, manga-ka Chika Shiomi keeps the story hot by delving into the difficult territory of the love triangle.
Up to this point, it was easy for the reader to see Yurara, Mei, and Yako as three wily ghost busters playing childish games of love, although there were always hints of serious romantic tension. The tension boils over in Vol. 3. This trio forms an edgy relationship in that two of the three are in some kind of genuine courtship, while the other guy is the odd-man out. In this supernatural series, Shiomi makes the complicatedness of a friendship turned to romance feel genuine and also as engaging as the ghostly stuff.
POSSIBLE AUDIENCE: Yurara is part of VIZ Media's "Shojo Beat" line which has the tag line, "Manga from the Heart," and like many of the line's titles, Yurara deftly mixes genres (in this case, supernatural fantasy and romance) and creates a truly engaging and entertaining reading experience.
B+
Shop VIZ at the Amazon aStore.
Last Updated: September 6, 2021 - 08:15