Yurara: Volume 5
By Leroy Douresseaux
May 31, 2008 - 15:51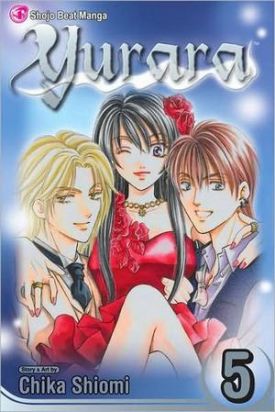 Thanks to barnesandnoble.com for this cover image of Yurara 5.
Rated "T+" for "Older Teen"
Yurara Tsukinowa is a shy, retiring high school girl and something of a ghost whisperer. She even has a guardian spirit – a strong-willed beauty who physically takes Yurara's place whenever the teen is actually threatened by a spirit. Into Yurara's life come two handsome, young male students.
These new Tokyo Municipal Sanko High School students are dark-haired jokester, Mei Tendo, and glum and serious blondie, Yako Hoshino. Whereas Yurara looks to understand the torment of restless spirits, Mei and Yako often look to do some ghost-busting. Yurara finds herself attracted to Mei, which leaves Yako, who is attracted to Yurara, out in the cold.
Yurara, Vol. 5 is the final volume of the series and finds the spirited trio in troubles personal, educational, and otherworldly. After coming to believe that Yurara really loves Yako, Mei breaks up with her, and he immediately falls into despair. Yurara also falls apart because she believes that Mei hates her. Now, everyone is in danger, as evil spirits have attached themselves to Mei and plan to force him to commit suicide, which would bond his tormented spirit to them. Will Yako do the right thing and help his friends reunite, and what about Yurara's guardian spirit?
THE LOWDOWN: I'm sad to see this manga that the publisher calls "a supernatural romantic thriller" go because Yurara is what it's billed. Manga-ka Chika Shiomi created a salty love triangle and threw in some nice family dynamics to spice the drama. Shiomi added the supernatural, but in a way that fits in with the "Shojo Beat" brand. Yeah, the ghostly doings had to find a way to fit in with the romantic love and character drama, and Yurara ultimately worked so well.
POSSIBLE AUDIENCE: Fans of CBS's inexplicably popular "Ghost Whisperer" TV series and readers of the Vampire Kisses and Twilight novels may find this to be the comic book for them.
A-
Last Updated: September 6, 2021 - 08:15