CLAMP's X: 3-in1 Edition Volume 6 manga review
By Leroy Douresseaux
October 11, 2013 - 16:16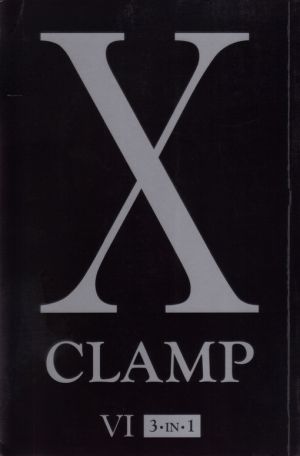 X: 3-in-1 Edition Volume 6 cover image
Rated "T" for "Teen"
Debuting in 1992, X/1999 is an apocalyptic fantasy shojo manga from the manga creating collective known as Clamp (or CLAMP). The series follows a young man who must deal with the fact that his destiny will determine the fate of humanity. VIZ Media is currently publishing the series as "X" in their omnibus 3-in-1 editions, which collect three volumes in one large-sized paperback volume.
Kamui Shiro, the hero, is a powerful young esper (someone with powers based on extra-sensory perception). Kamui is at the center of a prophecy foretold by Hinoto. This young blind woman is Japan's greatest seer, and she has foretold the end of the world.
In X/1999, there are two competing forces battling over Earth. The Dragons of Earth (The Seven Angels) believe that the conflict between man and nature cannot be resolved peacefully, so man, as destroyers, must be destroyed. The Dragons of Heaven (The Seven Seals) believe that the conflict between man and nature can be resolved peacefully. Hinoto hopes to win Kamui, who possesses tremendous arcane powers, to the side of the Dragons of Heaven. Kamui just wants to protect the two people most important to him, Fuma Monou and his sister, Kotori. Fuma, however, is also called "Kamui," and he has sided with the Dragons of Earth.
X 3-in-1 Edition: Vol. 6 collects X/1999 Volumes 16 to 18. In X/1999 Volume 16, Subaru and Seishiro (the Sakura-Zukamori) battle at the Rainbow Bridge. One of them must die for the other. Hokuto initiates a spell of reversal. Earthquakes put Tokyo under a state of emergency as the Dragons of Earth attack the kekkai protecting the city. When Tokyo falls, the rest of the world will fall as well.
In X/1999 Volume 17, Hinoto calls on her sister, Kanoe. The new Inuki (Yuzuhiro Nekoi's dog) draws the attention of the Beast. Sorata investigates a talisman attack on Kamui. There is a flashback to the first time Fuma met Kamui.
In X/1999 Volume 18, the dark Hinoto sends the Dragons of Heaven on a fool's errand. Karen Kasumi and Seiichiro Aoki travel to Ginza where they meet Nataku/Kazuki, an artificial man serving the Dragons of Earth. Fuma joins the battle.
THE LOWDOWN: The X 3-in-1 Edition manga is a paperback omnibus full of pages depicting volatile action. Energy explodes, cascades, rains, shimmers, inundates, etc. X/1999 can sometimes seem like one of Jack Kirby's cosmic-leaning comics; it is as if CLAMP is giving us a shojo interpretation of Kirby.
As the series progresses, this graphical story becomes more polished. The passions, conflicts, and motivations of the characters and various factions become more clear and concise. X/1999 is a gripping and engaging reading, and as it gets closer to the end, I suspect that the fireworks will be... well, even more cosmic.
POSSIBLE AUDIENCE: English-speaking CLAMP fans will want X 3-in-1 Edition.
Rating: B+ /10
Last Updated: August 31, 2023 - 08:12