Clamp's X: 3-in1 Edition Volume 1
By Leroy Douresseaux
November 10, 2011 - 07:36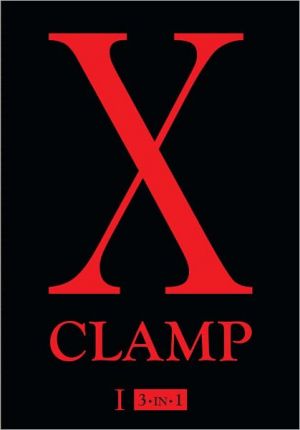 X 3-in1 Edition: Volume 1 cover image is courtesy of barnesandnoble.com.
Rated "T+" for "Older Teen"
X/1999 is a shojo manga from the manga creating collective, Clamp (or CLAMP). The series, which debuted in 1992, follows a young man who must deal with the fact that his destiny will determine the fate of humanity. VIZ Media is currently publishing the series as "X" in their omnibus 3-in-1 editions, which collect three volumes in one large size paperback volume.
X 3-in-1 Edition: Vol. 1 introduces the major players. After the recent death of his mother, Kamui Shiro moves back to Tokyo following a six-year absence. His dear friends, Kotori Monou and her older brother, Fuma Monou, find that Kamui is not like they remember him. Now, sullen and withdrawn, Kamui seems to have the weight of the world on his shoulders, and he actually does.
According to the blind seer, Hinoto, the fate of humanity rests on Kamui's narrow shoulders. Meanwhile, the Seven Seals, who are Kamui's allies, and the Seven Angels, who are to be his adversaries, gather. The year 1999 will be the year of the great battle in which Kamui will decide the outcome. Or will he? Could there be another?
THE LOWDOWN: I was brief in my summary of the first volume of X 3-in-1 Edition, but so much more happens and practically all of it is fun to read. X is not as polished as Clamp's later work, and its unrefined nature shows on every page. However, there is something very alluring about this rawness. Lacking the ability or, more likely, desire to be subtle, Clamp filled X with high-strung characters whose emotions are not hidden or quiet. The conniving are really conniving. The sullen are particularly sullen. And when a young woman is in love, as Kotori is, she's ready to stand by her man and make him soup if he won't eat what she has already cooked.
The art emphasizes big panels which usually contain battle scenes. Those battle scenes depict energy and magic unleashed in a fast and furious display. What the art lacks in draftsmanship, composition, and figure drawing, it makes up for in sheer bravado. The characters are likeable and though the subplots are a mess, X is that kind of large scale fantasy that attracts readers – like me.
POSSIBLE AUDIENCE: Clamp fans will want this, and readers who like big wars between magical beings will also want X.
B+
Last Updated: January 24, 2022 - 11:00