Web Comics 101: The New Wild West
By Jeff Juliard
November 9, 2006 - 17:44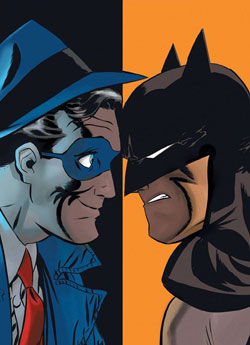 Theory
What if comics didn't have panels? What if the story behind a comic could change as you read it? What if anyone, anywhere could create a comic about anything they wanted? Anything. No rules. No restrictions. Welcome to web comics.
Web comics are a new frontier, a place where old rules and standard practices no longer apply. Where aspiring creators once cobbled together Xeroxed mini comics on shoestring budgets, today anyone can create and publish a comic for free using open source software and free online communities. Self-publishing used to mean spending a small fortune on printing, marketing and distribution. Now, small creative teams can launch their work online for a fraction of the cost. This combination of easy access and creative freedom has launched a revolution in the methods of comic story telling.
Comics have always been a craft. They provide a way to tell stories that is unique to any other entertainment medium. The combination of images and text allow the reader a subtle participation in the telling of the tale. Each space between panels offers the reader a place for participation. By manipulating the flow of panels, the creator can control the pace of the story and the emotional involvement of the reader.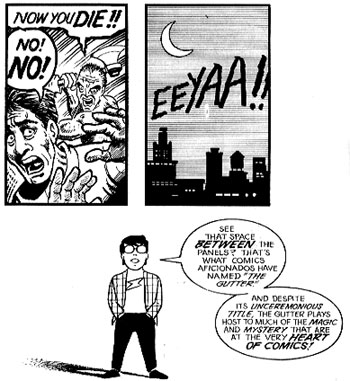 Closure
The technical term for this process is "closure." It's a function of the brain's need to see things as a whole, rather than a collection of parts. Put simply, it's your brain filling in gaps to create something it can recognize. It happens between scenes of a movie or television show. Your mind fills in the missing time to create a continuous story. With comics, this process happens constantly, between every frame, on every page. It's been a part of printed comics since their inception and it is by far the single most powerful trick up the sleeve of any comic creator. But that is changing now.
Although there are plenty of web comics that are presented in traditional page-based layouts, there are also several that are pushing boundaries through creative use of the technology that drive them. Aside from easy access, web comics no longer require the creator, or the reader, to play by the traditional rules of the printed page. For instance, a web comic might present one continuous image with no panels at all. Dialogue balloons may be hidden until you mouse over them. Some web comics incorporate animation and the ability to interactively change the story as you read it. In some cases, a web comic can even create a journey that carries the reader through multiple sites and pop up windows. When the medium is pixels, the possibilities are endless.
However they are presented, web comics are providing a forum for new voices. They are also gaining attention from publishers, creators and readers. There are already several well-known web comic portals, and next year will see the launch of a new collective headed by veteran comic writer, Warren Ellis. NBC's hit television show, Heroes presents an interactive online version that delves deeper into the show's world and its characters. In some cases, popular web comics have even been collected and published in printed versions.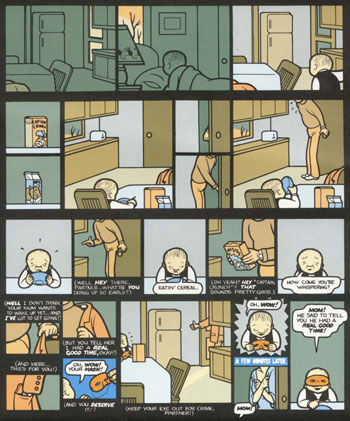 Panels
One thing is certain. Web comic creators are people who are truly passionate about creating comics. People determined to tell their stories. The web is giving them the tools to do that. So what does the future hold? Like any new frontier, web comics are creating new opportunities, new methods and access to a large audience. They are offering people who are passionate about creating comics a venue to tell their stories. In short, web comics are creating a place where the craft of comic story telling can evolve. And that's a good thing.
In the next column, we'll journey back to the early history of web comics. Where did they come from? What were these proto-web comics like and who created them? We'll track the growth of the medium and it's relationship to the technology that spawned it. Until then, go Google up some web comics and see what you find. Just don't forget to fasten your seatbelt.
###
Last Updated: August 31, 2023 - 08:12