Matsuri Hino's Wanted
By Leroy Douresseaux
August 25, 2008 - 18:51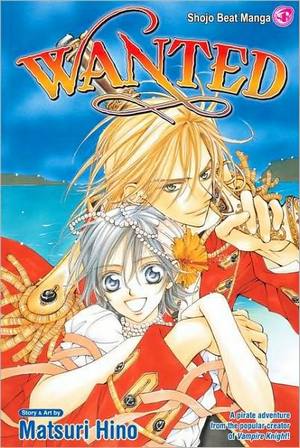 Thanks to barnesandnoble.com for the image.
Rated "T+" for "Older Teen"
Wanted is a stand alone book collection of the shoujo (girls' comics) pirate manga by Matsuri Hino (the creator of Vampire Knight). It focuses on Armeria, a young woman who boards a pirate ship disguised as a boy named "Arto."
When she was a child, Armeria (named after a flower) saw her first love, Luce Lanceman, kidnapped by a group known as the Pirate Skulls. Eight years later, she's aboard their ship, but Captain Skulls, a violent, arrogant, womanizer, has discovered Arto's secret. How will Armeria fare in the hands of the skirt chasing pirate captain, and how is he connected to the lost Luce?
THE LOWDOWN: I love pirate movies. Favorites include the Renny Harlin/Geena Davis bomb, Cutthroat Island (1995), the underrated Nate & Hayes (with Tommy Lee Jones), and Pirates of the Caribbean (except Dead Man's Chest). I even like films that aren't pirate movies, but prominently feature them – Walt Disney's Peter Pan and the recent Stardust, are two examples. Set in the Mediterranean Sea at the end of the 17th century, Wanted is as much a romantic adventure as it is a romance novel or historical fiction.
Two things sell Wanted. The first is the narrative's non-stop action, full of sea battles, exotic and dangerous locales, and slapstick comedy. This fast pace doesn't allow for much characterization, but all the three stories that make up Wanted need is for Captain Skulls to be a dashing rogue and for Armeria to be a spunky and determined heroine. The second element that sells Wanted is the art by Matsuri Hino (and possibly her assistants). The art is not only gorgeous and gorgeously textured (like Arina Tanemura's art), but also well presented in terms of narrative and style. The staging and placing of the characters, objects, and sets in each panel are topnotch; even the angles and presentations are meant to create maximum drama and emotion.
POSSIBLE AUDIENCE: I can't imagine that many male readers of high seas adventures will go for Wanted, but shoujo fans may take a liking to this beautifully drawn and spicy adventure/romance.
B+
Last Updated: August 31, 2023 - 08:12