VIZ Media and Haikasoru Announced Publication of Novel, "Sisyphean"
By The Editor
March 8, 2018 - 01:34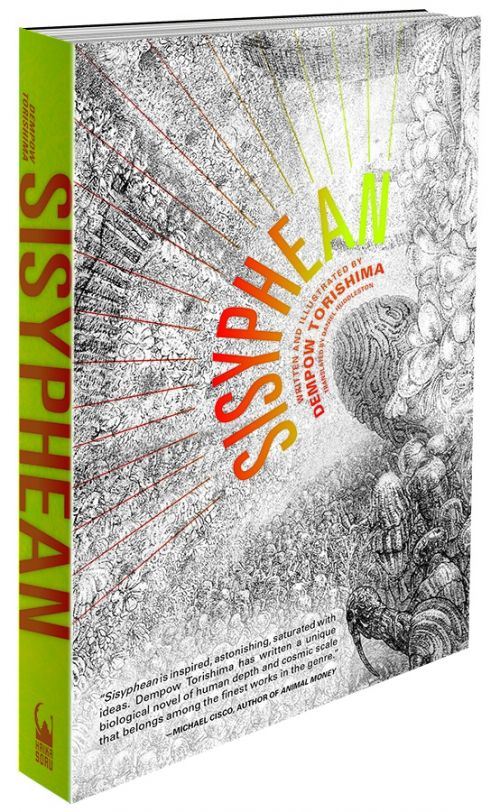 Sisypehan book cover image
VIZ MEDIA'S HAIKASORU SCIENCE FICTION IMPRINT ANNOUNCES THE AWARD-WINNING NOVEL SISYPHEAN
Famed Author Dempow Torishima Depicts A Stark Future Vision Of Humanity In SISYPHEAN
VIZ Media's Haikasoru literary science fiction imprint takes readers on a fantastic journey into the surreal with the release of SISYPHEAN on
March 20th, 2018
.
The novel was written by the award-winning Dempow Torishima, who previously thrilled North American readers with a short story that appeared in the critically acclaimed Haikasoru anthology, PHANTASM JAPAN. SISYPHEAN will be released in print with an MSRP of $16.99 U.S. / $22.99 CAN. An eBook edition will also debut on March 20th on Amazon's Kindle, Apple's iBooks Store, Barnes & Noble's Nook Book Store, the Kobo eBooks Store, and the Google Play Store.
A strange journey into the far future of genetic engineering, and working life. After centuries of tinkering, many human bodies only have a casual similarity to what we now know, but both work and school continue apace. Will the enigmatic sad sack known only as "the worker" survive the day? Will the young student Hanishibe get his questions about the biological future of humanity answered, or will he have to transfer to the department of theology? Will Umari and her master ever comprehend the secrets of nanodust?
"SISYPHEAN delivers a stark vision of bizarre surreality that will enthrall all lovers of science fiction," says Nick Mamatas, Editor. "Widely renowned in Japanese literary circles, and championed by American writers such as Michael Cisco, Torishima's English-language book-length debut is sure to increase his notoriety and acclaim amongst SF readers and fans."
Author Dempow Torishima was born in Osaka and has been a freelance designer and illustrator in addition to his work as an author. He won the Sogen SF Short Story Award with his debut fiction work, "Sisyphean" (Kaikin no to) in 2011. Since then, he has written a series of stories set in the same far-future world of Sisyphean, which was published as Sisyphean and Other Stories in 2013. The book was chosen as the best SF of 2013 in SF Magazine, won the Japan SF Award, and was nominated for the Seiun Award in 2014.
For more information on SISYPHEAN and the Haikasoru imprint, please visit Haikasoru.com.
For more information on other titles available from VIZ Media, please visit viz.com.
Last Updated: September 6, 2021 - 08:15