VIZ Media Announces "House of Five Leaves"
By The Editor
September 16, 2010 - 07:25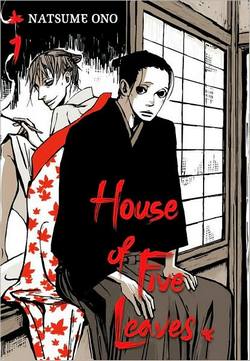 House of Five Leaves cover image
INTRIGUE AND DRAMA AWAIT READERS INSIDE THE HOUSE OF FIVE LEAVES
New Manga Tale Of A Masterless Samurai Debuts In September From Acclaimed Creator Natsume Ono
VIZ Media, LLC (VIZ Media), one of the entertainment industry's most innovative and comprehensive publishing, animation and licensing companies, has announced the release of Natsume Ono's samurai drama, HOUSE OF FIVE LEAVES, on September 21st. The new series, rated 'T+' for Older Teens, will be published under the VIZ Signature imprint and carry an MSRP of $12.99 U.S. / $16.99 CAN.
HOUSE OF FIVE LEAVES is a dramatic tale of intrigue and action. Masterless samurai Akitsu Masanosuke is a skilled and loyal swordsman, but his naïve, diffident nature has time and again caused him to be let go by the lords who have employed him. Hungry and desperate, he becomes a bodyguard for Yaichi, the charismatic leader of a gang called "Five Leaves." Although disturbed by the gang's sinister activities, Masa begins to suspect that Yaichi's motivations are not what they seem. And despite his misgivings, the deeper he's drawn into the world of the Five Leaves, the more he finds himself fascinated by these devious, mysterious outlaws.
Natsume Ono is one of today's top creators of seinen manga – designed for adult readers of mature and more sophisticated stories. She made her professional debut in 2003 with the web comic La Quinta Camera, and her subsequent works not simple, Ristorante Paradiso, and Gente (a continuation of Ristorante Paradiso) have met with both critical and popular acclaim. In 2009, Ristorante Paradiso was adapted into an animated TV series. Her current series, House of Five Leaves (Saraiya Goyou), also adapted into a TV anime series in 2010, is currently published in Japan in IKKI magazine.
HOUSE OF FIVE LEAVES is one of the innovative series featured on SigIKKI.com, VIZ Media's premiere website for presenting some of the most inventive, bold, and compelling titles in the world of contemporary manga. For more information on this title, please visit www.SigIKKI.com.
For information on all other VIZ Media titles please visit www.VIZ.com.

About VIZ Media, LLC
Headquartered in San Francisco, CA, VIZ Media, LLC (VIZ Media), is one of the most comprehensive and innovative companies in the field of manga (graphic novel) publishing, animation and entertainment licensing of Japanese content. Owned by three of Japan's largest creators and licensors of manga and animation, Shueisha Inc., Shogakukan Inc., and Shogakukan-Shueisha Productions, Co., Ltd., VIZ Media is a leader in the publishing and distribution of Japanese manga for English speaking audiences in North America, the United Kingdom, Ireland, and South Africa and is a global ex-Asia licensor of Japanese manga and animation. The company offers an integrated product line including the popular monthly manga anthology SHONEN JUMP magazine, graphic novels, and DVDs, and develops, markets, licenses, and distributes animated entertainment for audiences and consumers of all ages. Contact VIZ Media at 295 Bay Street, San Francisco, CA 94133;website at www.VIZ.com.
Last Updated: August 31, 2023 - 08:12